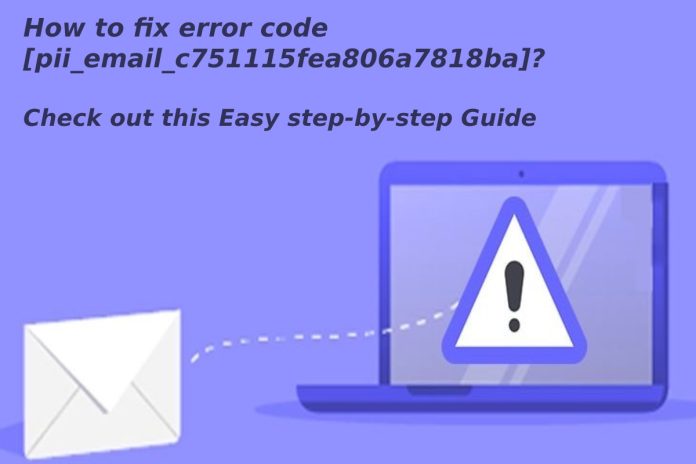 Check out this Easy step-by-step Guide
pii_email_c751115fea806a7818ba If you've used a Microsoft computer, chances are you are also using Microsoft Outlook. Microsoft Outlook is part of the Microsoft Office suite and is primarily use as an email client. It is the third most popular email client after the more in-demand email clients Gmail and Apple iPhone. Outlook includes other features such as calendar, task management, contact management, taking notes, journaling, and web browsing. It has a unique element to link all other email accounts in different email clients and work from one place.
While Microsoft Outlook has its charms, it has bugs that affect all software and cause it to crash. One of these errors is Resolving error [pii_email_5df70dfa05d9b2c10f6d] Read on to find out more about this and how to get rid of this error!
Also Read: How You Can Fix [pii_email_2c6d2da7924176e83f00] Error Code
What is the error code pii_email_c751115fea806a7818ba?
The error code [pii_email_c751115fea806a7818ba]indicates that your Microsoft Outlook is not working correctly. This means you won't be able to rate and send more emails using Outlook. Dealing with such errors is quite common, but often no additional information is provided about the nature of the error or how to solve the problem.
Why am I getting error code pii_email_c751115fea806a7818ba?
This error code can occur for a variety of reasons, from internal problems to installation problems.
Installation Process Failed in pii_email_c751115fea806a7818ba
Often when installing Windows or Microsoft Outlook, the process fails or is corrupted. When we can open your Outlook, but the error code [pii_email_c751115fea806a7818ba]appears. It is one of the main reasons this error code appears.
Using Multiple Accounts
This error occurs if you are using multiple accounts, not just from different email clients. Even if you keep going in and out, this error code will keep popping up.
Conflict with other Software
If numerous applications are install for an email task, Outlook may interfere with other software or applications on your device. This error pii_email_c751115fea806a7818ba can occur.
Also read: How To Fix [Pii_Email_7aa1063d0d4a455b59e4] 
How to fix error code pii_email_c751115fea806a7818ba?
Since there are several reasons why we are experiencing this error, it may take several steps to fix it. Since you don't know precisely what is causing the problem, you won't have a specific solution to follow until you finally find a fix. It is recommending that you try the first step and wait before moving on to the next.
Sign in to a Single Account
This error occurs if you are log into multiple accounts. Just log out of all current accounts and sign in to a single account. The error pii_email_c751115fea806a7818ba will be removed.
Clear Cache and Cookies
By clearing all cache and cookies, you delete all old channels, and they require data will be update. All damaged and blocked information will be deleted. The stock can be evident by clicking "Clear browsing data" in the additional tools in the right corner of the browser. Confirming "data clearing" for "Cookies and other site data" and "cached images and files" will allow you to remove the error code [pii_email_c751115fea806a7818ba].
Honestly warning, deleting cookies and cache will result in the loss of saved data and saved passwords in your browser. After you're done clearing the cache, log in using one account. Your error has been fixed.
Using the Support Service
Clearing your cache and cookies does not resolve the error. You can seek help from your PC's troubleshooting center. The center automatically searches for and fixes Pii errors in your application. The troubleshooting center can be edited by going to the system settings in the "Settings" section and selecting "Update and security." Just select "Troubleshoot" and go to your system until you find the error you want to fix.
Uninstall and reinstall Microsoft Outlook
If the above methods don't work, they will work. This is the most efficient solution for the pii_email_c751115fea806a7818ba error code. This error sometimes occurs if your Outlook was not installed correctly or the installation was corrupt. It is one of the main motives for this error code came up in the first place. Just uninstall and reinstall Microsoft Outlook to fix this problem. You will need to log into your account after reinstalling it.
Update Software
This error can occur if you were using a pirated version of the software or if an older version is installing. Upgrading to the original version or the modern version of the software will resolve the error.
Use a Web App
Microsoft Outlook for the web can be using in place of PC software. You can access the web version from the Navigation Pane by selecting the Outlook Web App version and clearing the Use Light Version check box for Outlook Web App. Finally, sign up for the lite version and log into your registered account.
Contact Microsoft Support pii_email_c751115fea806a7818ba
If everything doesn't work, you can contact Microsoft support for help. You can access Microsoft support by searching your browser and following the steps below. It should be note that this method should be considering definitively if other methods do not work.
Also Read: How to Solve [pii_email_83d91e9a286c4fb188a6] Error?
Conclusion
The [pii_email_c751115fea806a7818ba] error code is what you can expect if you are an Outlook user using Outlook to manage multiple email clients. This error will prevent you from using the software. This article will help you better understand why this error occurs.
By following the steps mentioned above, you should fix the error code in no time. We recommend that you follow the order in which the methods are executing. If one way doesn't work, you need to move on to the next. Some approaches can lead to irreversible changes, such as the loss of passwords and other saved data. In this case, warnings are given.
Also Read: How to Fix [pii_email_57bde08c1ab8c5c265e8] Error
Related Searches:
[pii_email_162664370a1818669636]
[pii_email_7635152f260a25889ea8]
[pii_email_763dc4fda8fb456ee409]
[pii_email_76b1e82f53dea6fc1a63]
[pii_email_799917d0a8af2718c581]
[pii_email_7a21a39598eeee5233be]
[Pii_email_12e95e5cac8028acce08]
[pii_email_13706040abcf8dff2d48]
[pii_email_1606b61a08e6a2cf4db9]
[pii_email_7abdd470fdc62380369b]
[pii_email_7c87eed8cbd58f104f77]
[pii_email_7cc4c1036b3de58e1c72]
[pii_email_7d02305c6f5561c22040]
[pii_email_92cb35c247cbd9428857]
[pii_email_46aaf5cec5db9a1a54d4]
[pii_email_47a736db4fdd0c9cb169]
[pii_email_47d6d05800e76df67e02]
[pii_email_48506579338ff6e2ed96]
[pii_email_4873497df0bd9b9fc2a4]
[pii_email_13706040abcf8dff2d48]
[pii_email_1606b61a08e6a2cf4db9]
[pii_email_4963ef873adfeebdcd41]
[pii_email_7e2660f7e18dd6cdd668]
[pii_email_7e710fffb86b8d1d9420]
[pii_email_1606b61a08e6a2cf4db9]
[pii_email_338034f14d68ea443925]
[pii_email_029231e8462fca76041e]
[pii_email_f3e1c1a4c72c0521b558]
[pii_email_eba7eaeb6d025a2475b2]
[pii_email_16456c60ba22a524ff15]
[pii_email_1606b61a08e6a2cf4db9]
[pii_email_1831b7c77a35fe5277ef]
[pii_email_7f50b3874b546a6ddaaf]
[pii_email_7f9f1997bfc584879ed9]
[pii_email_7fc0b21059eafbe88269]
[pii_email_231cfd3beb218dd1a2f1]
[pii_email_338034f14d68ea443925]
[pii_email_47d6d05800e76df67e02]
[pii_email_48506579338ff6e2ed96]
[pii_email_4873497df0bd9b9fc2a4]
[pii_email_45a4a05d5f63d9e8b751]
[pii_email_460c7120679d4986]
[pii_email_463121a1daa971b2920b]
[pii_email_4971789cdf81a9c045fa]
[pii_email_4984542b4c220d44b31c]
[pii_email_4a54df77285983c5da74]
[pii_email_173ad2f84e2639e6340c]
[pii_email_4a9bca936e6b4946fd29]
[pii_email_4b8fa8b8e14f953a10cc]
[pii_email_4bd3f6cbbb12ef19daea]
[pii_email_4bd3f6cbbb12ef19daea]
[pii_email_4c599dd17aabe5c9238d]
[pii_email_4c910535350b5a41ee81]
[pii_email_4cd5e5926b87673794b3]
[pii_email_4d38d057dfe87e05d53a]
[pii_email_4db8322de22af53a2bdc]
[pii_email_4a9bca936e6b4946fd29]
[pii_email_4b8fa8b8e14f953a10cc]
[pii_email_71e6bcfa8a2bee2aa151]
[pii_email_174f092082b581fc21d5]
[pii_email_179ade1537a46841322e]
[pii_email_728b405f3855592d09be]
[pii_email_73a54783f61c31a18711]
[pii_email_7414a4725170aa34fdf5]
[pii_email_13706040abcf8dff2d48]
[pii_email_1606b61a08e6a2cf4db9]
[pii_email_162664370a1818669636]
[pii_email_4963ef873adfeebdcd41]
[pii_email_4971789cdf81a9c045fa]
[pii_email_4984542b4c220d44b31c]
[pii_email_4a54df77285983c5da74]
[pii_email_4a9bca936e6b4946fd29]
[pii_email_4b8fa8b8e14f953a10cc]
[pii_email_4bd3f6cbbb12ef19daea]
[pii_email_4c599dd17aabe5c9238d]
[pii_email_4c910535350b5a41ee81]
[pii_email_4cd5e5926b87673794b3]
[pii_email_4d38d057dfe87e05d53a]
[pii_email_4db8322de22af53a2bdc]
[pii_email_71e6bcfa8a2bee2aa151]
[pii_pn_6a0fb39258490524]
[pii_pn_6a16142230ead327]
[pii_email_16456c60ba22a524ff15]
[pii_email_170f48204c9bdf9eafd2]
[pii_email_74226b0abbcc00e1880f]
[pii_email_75551be3aa765c0b6139]
[pii_email_757b04c989a910599393]
[pii_email_173ad2f84e2639e6340c]
[pii_email_174f092082b581fc21d5]
[pii_email_75d33bd917fccb875dc4]
[pii_email_7635152f260a25889ea8]
[pii_email_763dc4fda8fb456ee409]
[pii_email_179ade1537a46841322e]
[pii_email_7e2660f7e18dd6cdd668]
[pii_pn_68d7ad3aa9addc30]
[pii_pn_69367cd874936764]
[pii_pn_6a34cea4576dfd51]
[pii_email_7e710fffb86b8d1d9420]
[pii_email_7f50b3874b546a6ddaaf]
[pii_email_7f9f1997bfc584879ed9]
[pii_email_7fc0b21059eafbe88269]
[pii_pn_6734686cf2ceed85]
[pii_pn_6770c8a77e59f3d3]
[pii_pn_678e2db0658439b1cccb]
[pii_pn_67c54da38b0558e2]
[pii_pn_67f2cb7cf58fdff0]
[pii_pn_681f474fd5c2271e]
[pii_pn_6a52426b74bdd8bc]
[pii_pn_6abe73c315430dcc]
[pii_pn_6b01f73647d888fd]
[pii_pn_6b36c554d96b0d47]
[pii_pn_6b628600c9ac625c]
[pii_pn_6b6b59839f3c9fb3]
[pii_pn_1909d4c314db880b]
[pii_pn_6cf449519ddf258c]
[pii_pn_6e07e90a9e8f9822]
[pii_pn_6e6be686efbc478b]
[pii_pn_6f4c3c4b000cfda2]
[pii_pn_703ec235aa2e76dd]
[pii_pn_64f9809c858f1703]
[pii_pn_6b628600c9ac625c]
[pii_pn_19cff4d0fbfef971]
[pii_pn_64a8d02400ffb927]
[pii_pn_6e07e90a9e8f9822]
[pii_pn_6e6be686efbc478b]
[pii_pn_6b6b59839f3c9fb3]
[pii_pn_653de77147bbb3ca]
[pii_pn_6594b560039cb2e3]
[pii_pn_659a6f87e4c92614]
[pii_pn_65a8ae23bf162bd3]
[pii_pn_65fac9e34d41ed91]
[pii_pn_65febac2d8ddd2b2]
[pii_pn_6b6b59839f3c9fb3]
[pii_pn_6cf449519ddf258c]
[pii_pn_66d9285d8a1949bc]
[pii_pn_6734686cf2ceed85]
[pii_pn_6770c8a77e59f3d3]
[pii_pn_678e2db0658439b1cccb]
[pii_pn_67c54da38b0558e2]
[pii_pn_67f2cb7cf58fdff0]
[pii_pn_6a34cea4576dfd51]
[pii_pn_6a52426b74bdd8bc]
[pii_pn_6abe73c315430dcc]
[pii_pn_6b01f73647d888fd]
[pii_pn_6b36c554d96b0d47]
[pii_pn_6cf449519ddf258c]
[pii_pn_6e07e90a9e8f9822]
[pii_pn_6e6be686efbc478b]
[pii_pn_73da4a4f9ab02445]
[pii_pn_744663c8ae275323]
[pii_pn_74557b24456ea675]
[pii_pn_749ca35c4c933c61]
[pii_email_bbe23db0eac8af7a095e]
[pii_email_bc0906f15818797f9ace]
[pii_email_bdca3e2bf4d6e4f2]
[pii_email_be2e2053115ed832a58c]
[pii_email_be5f33dbc1906d2b5336]
[pii_email_bef890c9227ca2f61fbf]
[pii_email_bf6b66616c9ac9780987]
[pii_email_c260d3556cd125cd]
[pii_email_c31346fff2b6307b017b]
[pii_email_c44daf3db584541df034]
[pii_email_c5bebcbfb802632c255f]
[pii_email_c5d8a719da077be3aed4]
[pii_pn_68d7ad3aa9addc30]
[pii_pn_69367cd874936764]
[pii_email_c736e7ccb43fa2fa]
[pii_email_c742a940ba384394925d]
[pii_email_c748de9376bc41bd4967]
[pii_email_c751115fea806a7818ba]
[pii_email_c75373ce5b34bf577425]
[pii_email_c0872b2275c5451a2577]
[pii_email_c0cba36634674c2efac7]
[pii_email_c1646d6cd617ef1be6ab]
[pii_pn_6a0fb39258490524]
[pii_pn_6a16142230ead327]
[pii_email_ca4a400389eb63f24982]
[pii_email_cbb5825d03ab5bac6ba9]
[pii_pn_1909d4c314db880b]
[pii_pn_19cff4d0fbfef971]
[pii_pn_64a8d02400ffb927]
[pii_pn_64f9809c858f1703]
[pii_pn_653de77147bbb3ca]
[pii_pn_6594b560039cb2e3]
[pii_email_c9b5aec8e6ba05779455]
[pii_pn_65a8ae23bf162bd3]
[pii_pn_65fac9e34d41ed91]
[pii_pn_65febac2d8ddd2b2]
[pii_pn_66d9285d8a1949bc]
[pii_pn_6734686cf2ceed85]
[pii_pn_6770c8a77e59f3d3]
[pii_pn_678e2db0658439b1cccb]
[pii_pn_659a6f87e4c92614]
[pii_email_c78401bd1cf0c5f2e588]
[pii_email_c7e98d1b06e1456b9308]
[pii_pn_6a52426b74bdd8bc]
[pii_pn_74557b24456ea675]
[pii_pn_749ca35c4c933c61]
[pii_email_cbd448bbd34c985e423c]
[pii_email_cd4b80dbd951adb0d4dd]
[pii_pn_0677d0a141f7304e]
[pii_pn_081f97f2e0883eac]
[pii_pn_0853805813c4d783]
[pii_pn_0890850cc50225d7]
[pii_pn_08f3ddc2d7cf1ec2]
[pii_pn_6abe73c315430dcc]
[pii_pn_6b01f73647d888fd]
[pii_pn_6b36c554d96b0d47]
[pii_pn_0d89ad7435fe8416]
[pii_pn_67c54da38b0558e2]
[pii_pn_67f2cb7cf58fdff0]
[pii_pn_681f474fd5c2271e]
[pii_pn_6a34cea4576dfd51]
[pii_pn_0dc0d48771610ec7]
[pii_pn_6b628600c9ac625c]
[pii_pn_6b6b59839f3c9fb3]
[pii_pn_6cf449519ddf258c]
[pii_pn_6e07e90a9e8f9822]
[pii_pn_6e6be686efbc478b]
[pii_pn_6f4c3c4b000cfda2]
[pii_pn_703ec235aa2e76dd]
[pii_pn_707b7afb0626194d]
[pii_pn_70f834fdb7eccdb9]
[pii_pn_71172f6ba31c6429]
[pii_pn_681f474fd5c2271e]
[pii_pn_68d7ad3aa9addc30]
[pii_pn_69367cd874936764]
[pii_pn_6a0fb39258490524]
[pii_pn_6a16142230ead327]
[pii_pn_0f052fa7a5b75b78]
[pii_pn_0f2046f265ba7cdd]
[pii_pn_0fdebdad7cb59361]
[pii_pn_6a0fb39258490524]
[pii_pn_6a16142230ead327]
[pii_pn_1055c1c7cf7e6890]
[pii_pn_10a082cf2b3442c0]
[pii_pn_6a34cea4576dfd51]
[pii_pn_6a52426b74bdd8bc]
[pii_pn_6abe73c315430dcc]
[pii_pn_712d13120a82b147]
[pii_pn_7192980238d52e17]
[pii_pn_723b200849ab4fd0]
[pii_pn_73382311aed08bd1]
[pii_pn_73da4a4f9ab02445]
[pii_pn_744663c8ae275323]
[pii_pn_092db766a2e87629]
[pii_pn_09a4a41d7b435d58]
[pii_pn_09e51c37b7e2fcde]
[pii_pn_0a6b1853cd1cf7d9]
[pii_pn_0bcaab4a3b2e0dee]
[pii_pn_0c2a8096180d19d9]
[pii_pn_0c7017ac4b607ace]
[pii_pn_0d1f5785eb5d8638]
[pii_pn_0d7d915be1e2d9ee]
[pii_pn_0d87991d7322d7f5]
[pii_pn_11b5ed2e8faa709e]
[pii_pn_11ec56524c076f12]
[pii_pn_137b46d99f6e3b7e]
[pii_pn_1528ba038239229d]
[pii_pn_154bea6225daea76]
[pii_pn_15608a3ca5d8a63f]
[pii_pn_1660bb5fd0d0b0c2]
[pii_pn_166a73c44fdce872]
[pii_pn_16a485e98ca294d8]
[pii_pn_10a1046621cbbd18]
[pii_pn_10a96607a9a9f680]
[pii_pn_1139571993cac9bb]
[pii_pn_118b8cefd0470019]
[pii_pn_16ec9d6cc5df9638]
[pii_pn_17ddaaa8de60b104]
[pii_pn_18d7c33fb9b99a45]