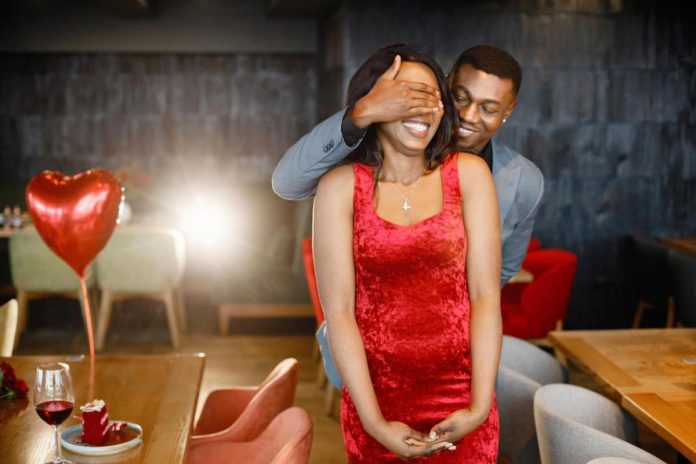 Gifts for Her on Special Occasions: The wearing of diamond jewelry really did not become fashionable until the 1930s. Later, in 1947, the diamond company, De Beers, launched the slogan, "A diamond is forever." It was part of its campaign to make the diamond a centerpiece type of jewelry. At the time, DeBeers ads featured popular Hollywood stars glistening in diamond accessories.
While diamonds are most definitely a girl's best friend, they should be given together with other gifts. For example, anniversaries or birthdays are incomplete without lavish bouquets and decadent cakes. If you plan to gift your partner a beautiful bouquet of lilies, you don't have to go physically visit a florist. All you need to do is visit an online flower store, choose the ones that she will like the most and get it delivered to your house.
Today, diamonds have indeed become a girl's best friend, as they are part of a woman's personal expression and style. Therefore, they not only give you a clue about a woman's tastes and preferences, they also complement fashions that are both active and elegant.
Whether you're seeking a diamond tennis bracelet or want to give the love of your life a diamond engagement ring, the recipient will, no doubt, appreciate the jewelry. Below are the top 5 special occasion gifts that make a gift of diamonds both meaningful and exciting.
1. The Diamond Tennis Bracelet
One of the most popular types of diamond bracelets, the tennis bracelet, is both sophisticated and underplayed – beautiful and elegant. The jewelry comes in blue and white diamonds, in pink and white diamonds, or with diamonds displaying a popular emerald cut. Choose this wonderful bracelet for special gift-giving occasions such as birthdays, anniversaries, or graduation.
2. Stud Diamond Earrings – A Fabulous Addition to Any Woman's Wardrobe
With stud diamond earrings, you can dress up a black dress or pair the jewelry with favorite jeans. You can also wear stud earrings with a vibrant red dress or a sophisticated white  button-down shirt.
While stud rings come in various designs, the ones worn on the ear often are round. That's because round diamonds, because of their shape, sparkle noticeably, and can be worn with a variety of looks. However, if you're seeking the ultimate sensation in fancy diamond stud earrings, go for a princess cut. Don't confuse this cut with a square cushion diamond cut, which features a curved edge. Princess cut diamond studs, instead, display pointed edges.
You cannot go wrong with earring shape, if you're seeking a more elegant design, as the shape of the earring goes with any face shape. Whether you choose this shape or another pair of stud earrings, you have to keep a few things in mind. The clarity grade of a diamond will give you what you need to know about a diamond's inclusions or flaws. Flaws, under a microscope, reveal cloudy areas or dark spots. Perfect diamonds are graded "FL" for flawless.
A diamond's color grade defines its whiteness, which is preferable.. The letter "D" on the grading scale represents a colorless gem. "Z", on the other hand, represents diamonds with a less favorable color grade, as they cast a yellow tint. When assessing carat weight, keep in mind that jewelers sell diamond studs at their total weight. Therefore, a pair of earrings that weigh 1 carat are 1/2 carat each.
3. Pendant Diamond Necklaces
The classic piece of diamond jewelry, a pendant necklace is easy to match with almost any outfit. You can wear the necklace as easily with a casual top as you can with a formal gown. It goes well with leggings and a sweater or a pair of jeans and a t-shirt.
Pendant diamond necklaces come in all sizes, materials, and shapes. Popular pendant choices include classic solitaire pendants, starburst pendant designs, heart pendants and pendants featuring blue or pink solitaire diamonds. Cable chains and lobster clasps are standard fare with most pendant selections.
4. Diamond Rings for Weddings, Engagements, Anniversaries, and Everyday
When you think of buying a diamond ring, you normally associate it with a special event, such as an engagement or wedding, However, you can also give the ring for a special occasion, such as a birthday or anniversary. Promise rings are also extremely popular, and are ideal presents to give just about anytime.
Increasing the "Wow" Factor
You can customize your ring by choosing the shape you want, the type of metal, and the setting. In addition, there are trendy unusual styles like the spinner ring which is worth considering. Some rings are stackable while others convey the popular solitaire design. If you want to  buy a ring that produces a bigger "wow" factor for the price, you cannot go wrong by choosing a diamond solitaire.
By choosing one diamond instead of several diamonds on a ring of less quality, your gift will stand out with added sparkle and shine. Purchasing a larger carat weight with fewer flaws, in a cut that reflects more light, gives you more "wow" for what you spend overall.
5. Hoops and Huggies
You also don't want to forget hoops and huggies when looking at diamond special-occasion jewelry. A woman can wear this dramatic ear jewelry with small diamond studs as well. Any woman who loves earrings will appreciate receiving these earring styles.
Hoops can be made to play up a casual look or create a bold fashion statement. Besides the traditional round looks, you can also buy hoops in various thicknesses and lengths, including design variations such as ovals, squares, or triangles.
Huggies are similar to hoops, but are smaller sized and thicker than hoop designs. Rows of pave diamonds intensify the brilliance of the earrings.
How to Select a Diamond Jewelry Gift
When selecting diamond jewelry for a special occasion, it helps to familiarize yourself with recommended grades, depending on how much you can afford to pay. Aso, remember, lab-grown diamonds are the exact same thing as diamonds derived from mines, as both are made of carbon. The only difference is that the lab-based variety is developed in the lab.
If you're worried about sizing the jewelry and it's being given as a more general gift, like a birthday or Christmas present, choose a necklace. Select a pendant necklace with a chain that you can adjust to 16 or 18 inches long.
Know What You're Buying
Remember to do your own research as well before choosing a jewelry store to learn more about how their diamonds are valued. Diamonds are graded by cut, color, clarity and the number of carats – all 4 factors you want to keep in mind when you're buying the perfect piece of diamond jewelry.