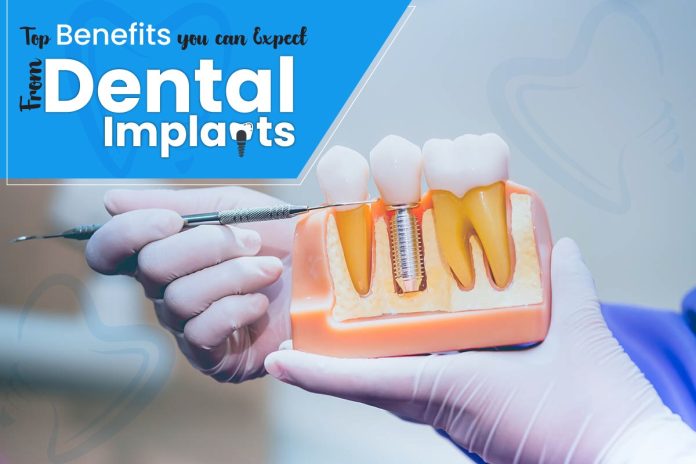 Are you looking for a safe way to replace your chipped teeth? Or you do not want to get into procedures of getting dentures, bridges, and crowns? Here's the solution: Dental implants are the safest way for dental extraction and getting your teeth fixed, ensuring guaranteed results.
A tooth decaying is a natural phenomenon and depends upon many factors like age, medical issues, and lifestyle. Fortunately, there are many procedures now to fix your broken teeth, and dental implants are one of them. You might have queries related to the dental implant, like what exactly is a dental implant, and why should you go for this method?
This blog will provide you with everything you need to know about this cosmetic dentistry method, i.e. dental implant, its benefits, costs, and much more. So let's get started!
What Is a Dental Implant?
Dental implants are a permanent way to replace your damaged teeth with artificial ones like natural teeth. In this method, dentists fill the roots of teeth with titanium metal, screw-like posts. It is also an excellent alternative for dentures or bridgework. In many cases, the dental implant serves its purpose when a lack of natural roots does not give room for denture and bridgework to build.
This procedure also depends upon the condition of your jawbone and the type of implant. Firstly, it requires a detailed X-ray of your teeth. Then you will be asked about your medical history, and then the dentist will share the complete treatment plan.
Benefits of Dental Implants
While there are many options among cosmetic dentistry, here are some advantages that make you feel worth investing in dental implants.
1. Dental Implants look like natural teeth
After the dental implantation, one cannot feel the difference between natural and restored. Not only in terms of appearance but also in terms of the way it functions, you cannot figure out which one is artificial. It sits perfectly on the gum line and does not cause any noise or breakage with other procedures like denture and bridgework.
2. Dental Implants can last a lifetime
What makes this method worth investing in is that it can last for a lifetime. On the other hand, a dental bridge can work for only ten years. Even in the case of dental implants, you have to care for their potential to last for a more extended period.
But as the implant gets integrated into the jawbone, the chances of its displacement become significantly less. Secondly, it is filled with a biocompatible titanium. This makes it strong enough to work for as long as natural teeth last.
3. Dental Implants improve your Aesthetic Appearance
If you have lost any of your natural teeth, it makes you shy to speak, smile, or laugh naturally. Similarly, it is due to the lost tooth that gives an aged sunken appearance to the mouth. That makes the whole look of the face distorted. Here comes cosmetic dentistry to improve your aesthetic appearance so that you can smile without any worries.
4. Dental Implants are easy to care for
Dental implants are easy to maintain and do not require specific products to care for or clean the teeth. Like for natural teeth, you have to brush, floss twice a day. Similarly, you should visit a doctor for a regular checkup.
People have a misconception that they do not require any attention as they are made of metal. But that's not true. You need to follow the same hygiene as you do for natural ones.
5. Dental Implants can help keep you free of gum disease
While it does require care to avoid any bacteria or infection getting in. Yet, the material used for implants does not decay. Therefore, there are very few chances of getting any cavity. So it prevents any gum disease.
6. Dental Implants won't restrict your diet
Many people show concern that they won't be able to eat as they could with natural teeth. However, dental implants come with restoring power, i.e. you can eat, chew, brush and floss naturally. You do not need to prevent any food item due to this.
The titanium material does not have an impact on the force with which you can take a bite. You can have the same size of bite as with the natural ones. At the same time, other cosmetic dentistry procedures affect the force with which you take small or more significant bites.
7. Dental Implants offer predictable outcomes
You can predict the outcomes of the procedure to quite a great extent. It is estimated that 98 percent of the procedure succeeds. At the same time, some factors like smoking can influence the results of dental implants. Moreover, it also depends upon the position and the jawbone you have to fit in the mouth.
8. Improved Speech Clarity
You might feel difficulty speaking when you have a gap between your teeth. You might mumble, slur, or possibly mispronounce words. However, when your gaps are filled with restored teeth, you will see the difference in your speech. It improves speech clarity, so you do not think before speaking in a public place.
Bottom Line
The dental implant is the permanent solution for replacing missing teeth and restoring natural teeth' power. Among many other options, it stands out among the rest due to the advantages it offers. It acts as natural teeth, improves the aesthetic appearance, is easy to care for, and prevents any cavity. With proper care and attention, it can work as long as your natural teeth do.
If you are looking to improve your dental care, it's worth investing in as it guarantees the outcome. So what are you waiting for? Fix your broken teeth now with dental implantation and boost your confidence!