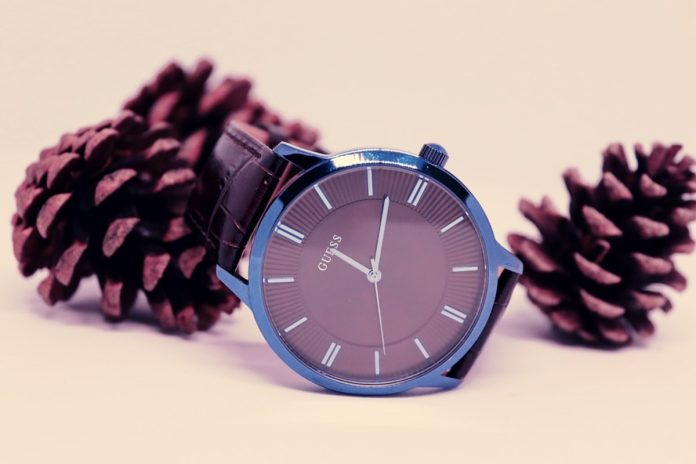 Guess is a lifestyle brand popularly known for its clothing products. Aside from clothes, the company also manufactures and markets jewelry, bags, perfumes, shoes, and watches. Guess watches, unlike clothing products, are not prominent and attractive, especially to the avid watch connoisseurs. Guess, on the other hand, does not intend to compete with the most well-known names in the luxury watch industry. Its strategy is to attract potential buyers, particularly millennials who are fashion conscious at the moment. Because millennials are open-minded and pragmatic, they will not accept something difficult to obtain. Instead, they'll opt for something affordable but of good quality, and Guess watches are a popular choice. Guess watches are somewhat catchy, trendy, and attractive to young buyers. Here are some of the timepieces that are most loved by Guess lovers.
Guess Silver and Gold Watch (U0799G4)
Gold and silver are two of the most widely used religious symbols in history due to their exemplary physical attributes. It becomes a symbol of purification and excellence after being refined in the refiner's fire. Having these two emblematic colors in an affordable watch is something so spectacular. The Guess watch ref U0799G4 features a silver and gold-tone in its 46 mm round stainless steel case and bracelet with a white dial. Aside from its physical attributes, it also has a 100m water resistance making it one of the great Guess watches for women who love both elegance, practicality, and adventure. The price of this stunning watch is around $350.
Guess Silver Tone Case U0799G1
Purity, power, lucidity, emphasis, and feminine energy are all represented by silver. Silver is among the noble metals in alchemy, and if you like silver watches but don't want to spend a lot of money, this Guess Silver watch ref U0799G1 is a good option. This 46 mm watch features a silver stainless steel case, silver-tone bracelet, silver dial, and 50m water resistance. The Guess Silver Tone Case price is around $330.
Guess Gold Tone (U0799G2)
Gold, both as an object and as a color, is correlated with justice, prestige, and luxury, as well as aging wisdom. However, not everything that is gold comes with a large sum of money. We can find gold in fantastic watches at a reasonable price. Consider the Guess watch ref U0799G2, which has a 46 mm gold-tone stainless steel case and bracelet. With gold accents and a Champagne dial, it's hard to believe that this watch only costs around $350. With its 100m water resistance, it is both elegant and functional.
Guess J Balvin Watch (V1051M1)
If you're in love with Latin songs, particularly reggaetón music, it's hard to not be in love with J. Balvin. His songs are incredibly catchy and addicting, from Mi Gente to I Like It and Qué Más Pues. In honor of his legendary fourth-studio album, Colores, the Colombian artist and American brand collaborated to produce a colorful and incredible watch. The Guess J Balvin V1051M1 watch has a transparent strap and a transparent barrel case with a dial with gear details. J Balvin's music and style are reflected in this bold design, which is complemented by bright colors on the multi-function dial. This watch is also budget-friendly with a price of around $199. With that, you can feel like J Balvin is just around your wrist.
Guess Purple Watch (GW0044L1)
Purple is frequently linked to royalty, power, nobility, wealth, and ambition. If you feel like you're a strong man that is vigilant to face all the challenges and strikes of life, you may also want to try this purple watch from Guess. It does not only have a vibrant color but it also comes with nobility at a low cost. The Guess Purple Watch ref GW0044L1 features a 44 mm purple stainless steel case and bracelet with a silver glitz dial. The vibrant colors in this watch give you an impression of happiness and energy behind the achievements you got in life. This watch can be attained at around $290.
Guess Rose Gold Women's Watch (U1142L4)
Because of its affiliation with precious metal and widespread use in jewelry, rose gold conveys luxury as a color. But do you know that you can attain a legit rose gold watch at around $210? Well, the Guess Rose Gold Women\s Watch ref U1142L4 is what is being talked about. This elegant yet cost-effective timepiece comes in a rose gold-tone stainless steel case and mesh bracelet. This analog watch also features a rose gold glitz dial and 10m water resistance. It's just so perfect on the wrist of women who are elegant and gorgeous in their ways.
In A Nutshell
Although Guess watches do not reach the lofty heights of other lifestyle brands producing watches, they are still considered a luxurious brand, albeit one that is more affordable than others. Despite their status as a mid-tier brand, their products are undeniably good and of high quality.