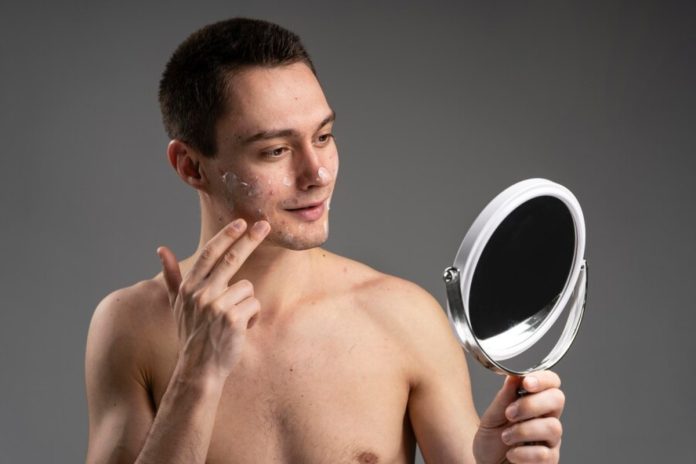 Acne in Men: We all know how women keep worrying about breakouts and acne on their skin. But unfortunately, this problem isn't women-centric. It happens to men too. Thankfully, men have now become very cautious about their skincare these days. As such, they are also always in the quest for skincare improvement. However, if you are someone who does not want to go the extra mile, here are some easy ways you can take care of your skin and avoid those acne problems for long.
Here's what to do before you head to a cosmetic shop online!
1. Invest In A Good Facewash
Simply using the facewash that your wife or your sister uses is not the endgame. Since every skin type is different, choosing a face wash that suits your skin is important. This way, you can get rid of your acne problems even faster without more skin irritation. Beardo Facewash is a good recommendation for this purpose. Since it is specially formulated to eliminate any type of dirt, pollution and oil from your face, it can help control acne right on time. Purchase it now to see how it can make your skin clean and clear.
2. Use A Moisturizer
Most men consider their maximum skincare to end at washing the face properly. But that is only the beginning. It is essential to layer the skin with hydration using a moisturizer. That is why when you visit a cosmetic shop online next time, invest in a good-quality moisturizer without any second guesses. Moisturizers can also help reduce the dryness on your skin and improve the overall texture causing a reduction in acne.
3. Use Makeup Sparingly
When you encounter a breakout on your face, it is wise to minimize the usage of makeup products. Whether you apply concealer to hide those dark circles or a foundation to make your skin glow at a party, it is significant to use makeup minimally. Also, if you are using a makeup brush or blender for the concealer, do not forget to clean them properly before they contact your skin. This will help reduce the risks of acne and other skin irritations on your skin for a long time. Also, when you head to a cosmetic shop online, make sure you buy a brush that is easy to clean.
4. Abstain From The Sun
The Sun can do a lot of harm to your face and those pimples that are already making things worse. They can trigger acne and cause an increase in the breakouts on your skin too. If you do not want to encounter such a nightmare, it is best to avoid the Sun as much as possible. Wear sunglasses to protect the under eyes and Sunscreen to safeguard your skin health.
The Bottom Line
These are some of the best tips for men to control their acne while there is time. Also, do not forget to invest in Beardo facewash to see the difference while you can. You can purchase them at nominal rates from the best online stores.