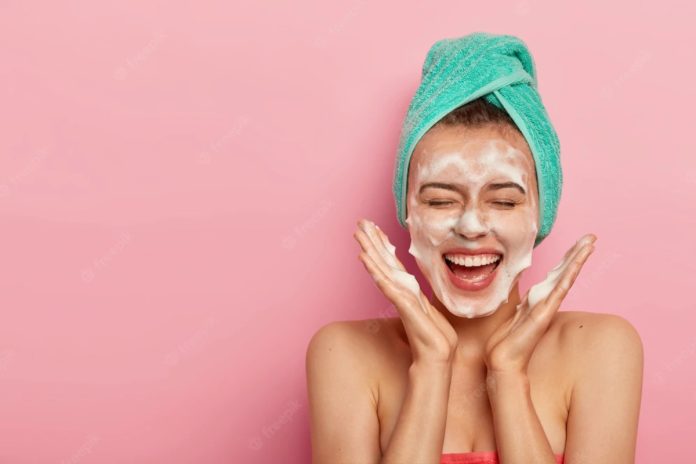 Month after month, an array of products ranging from retinol serums to toners make it to the skincare regimen. However, one product has remained influential throughout the years. The absolute essential – face wash for whitening skin! They remove dirt, oil, make-up, and other impurities from the skin.
However, do you know how to select the best face wash for your skin type? Using the wrong one is one of the most common face-washing blunders. It could help if you asked yourself some questions the next time you go face wash shopping.
It's crucial to find a face wash that doesn't extract more than it should. The wrong one might dehydrate and dry out your skin.
The first step toward healthy, bright skin is to use a quality face cleanser. Heat and pollutants are constantly present on your skin. As a result, you require a cleanser that can improve dermal health and effectively cleanse the skin.
Face cleansers are abundant in the stores. As a result, selecting one that is right for you is essential. So, what are the considerations you should make? Here are a few pointers to remember the next time you're out shopping.
When choosing a face cleanser, keep the following in mind:
1# What is your skin type?
Face products are usually tailored to specific skin types, such as dry, oily, normal, sensitive, or mixed. As a result, determining your skin type before choosing a face cleanser is critical to avoid unwanted side effects.
| | |
| --- | --- |
| Oily Skin | Some of the best natural ingredients for oily skin are green tea extract, Cinnamon extract, and tea tree oil. They can control sebum production and remove excess oil from your skin. Tea tree oil is a well-known acne fighter with potent antimicrobial properties. The Lotus Herbals TEATREEWASH Tea Tree & Cinnamon Anti-Acne Oil Control Face Wash is antioxidant-rich and designed for acne-prone and oily skin types. It keeps the skin oil-free and cleanses the face thoroughly to avoid acne and pimples. Use a small amount of this oil control face wash daily in the mornings and evenings to get oil-free clear skin. |
| Dry Skin | Aloe vera has healing and hydrating properties, and it's an excellent solution for dry skin because it moisturizes it well. Parabens are a cosmetics villain! When it comes to dry skin, these can increase UV-induced cellular damage, over-sensitize the skin, and cause rashes, blisters, and burning. Another no-no for dry skin is paraben and perfumes. Lotus Herbals Whiteglow 3 in 1 Deep Cleansing Skin Whitening Facial Foam is enriched with milk enzymes and aloe vera gel to gently remove dirt, impurities, as well as make-up residues that cause dullness and dry skin, revealing a refreshingly brighter and glowing complexion. It's the best face wash for whitening skin. It contains no parabens or harmful chemicals. |
| Sensitive Skin | Sensitive skin is a term that refers to a skin type that has a lower tolerance for cosmetics and skincare products. Sensitive skin can react to practically any product, mainly if you don't know which ingredients are best, so stick to natural ingredients. Lotus Herbals NEEMWASH Neem & Clove Ultra-Purifying Face Wash contains neem and clove extracts, which efficiently remove pollutants, debris, and grime from the skin and leave it glowing. This herbal face wash is particularly effective in comforting sensitive skin. |
If you're not sure about your skin type right now, you should first consult a dermatologist.
Knowing your skin now will assist you in deciding what to buy later.
2# What are the pH levels of your skin?
The acidity level of substances is measured in potential hydrogen (pH). So, how does acidity relate to your skin? Understanding and maintaining your skin's pH turns out to be essential to your overall skin health.
The pH scale goes from one to fourteen, with seven being considered "neutral." The lower the number, the higher acidic it is, while the higher the number, the more alkaline or nonacidic it is.
The pH of the skin's surface is usually about 4.7 or, to put it another way, below 5.0. Therefore, dermatologists advise using cleansers with a physiological pH of 4.5-6.5. (or 5-5.5).
3# Is your face wash fragrance-free?
Dermatologists agree that fragrance-free products are better. Natural face cleansers are essential to maintaining a healthy skin free from acne, breakouts, etc. Ones with chemicals can strip your skin of natural oils and make it dry. This makes your pores more likely to break open, allowing acne-causing bacteria deeper into the skin. Also, although dry skin can is not a direct cause of acne, it can trigger the production of more sebum or oil in your skin. While it is vital to remove excess oil, removing natural oils from your skin encourages your skin to produce more oil to compensate for the dryness.
These are compelling reasons you should use fragrance-free cleansers that also free from  paraben and sulfate. They will effectively remove debris, excess oil, daily pollutants, and make-up.
4# What are the active ingredients in the face wash?
Many skincare products in supermalls' glittering cabinets are nothing more than filler chemicals that may smell and feel nice. What you need are active ingredients that will help your skin repair. Always go for a product that contains natural ingredients like tea tree, neem, etc.
5# Is the Face Wash Sulfate-Free?
Sulfate is a strong chemical used in skincare products that have adverse effects. It depletes your skin's natural oils, leaving it dry and sensitive. It can also irritate your skin by clogging the pores and causing acne. Thus switching to a sulfate-free face wash like Lotus Herbals WhiteGlow Vitamin-C Radiance Face Wash would be the best. With natural ingredients like Kakadu plum and yuzu lemon, it effectively removes dirt and pimple-causing bacteria.
6# Are the products tested and approved?
Always buy products that have been dermatologist-tested and approved. Your skin is unbelievably lovely. However, it requires assistance from an expert.
Please read the labels on any potential products carefully and double-check them on the web. False claims on the packaging of counterfeit goods are a possibility. Always look for natural ingredients that will help your skin breathe!
Finally
Skin problems might result from neglecting basic skincare. Never experiment on your skin, never trust an unapproved product, and always consider these six points before purchasing. After all, we're talking about the most crucial part of your body, your skin. You must exercise extreme caution in this regard.