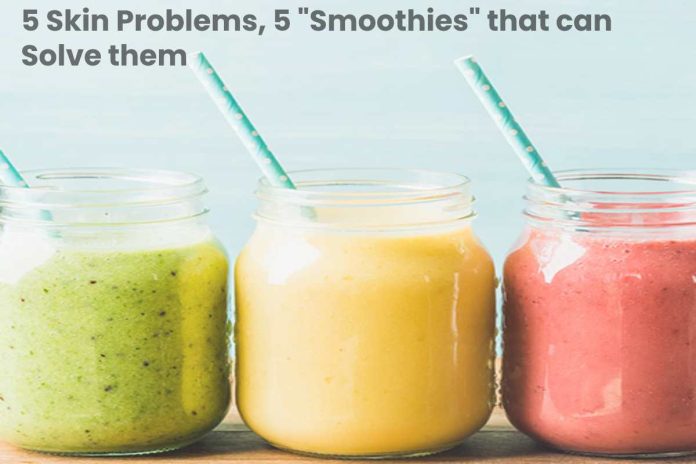 Skin Problems – We all look for a way to have perfect skin, the one that can say goodbye to makeup every day and still look flawless. That's why we try practically all the options that promise to leave our skin glowing. Although the daily use of sunscreen and hydration is an important part, something that not all of us take into account is how our diet can affect the Skin Problems.
We know that certain foods contain antioxidants, vitamins, and other vital needs, so why not start consuming them right away? We have put together five delicious smoothie recipes filled with the best ingredients for you to try and savor your way to perfect skin.
1. To Purify And Cleanse The Skin
Ingredients:
1 cup unsweetened coconut water
1/2 Avocado
1/2 cup frozen blueberries
A handful of organic spinach leaves
1-2 tablespoons of hemp
1/2 teaspoon powdered spirulina
An avocado smoothie with bananas and blueberries will be a delicious breakfast smoothie, but it will also give you glowing skin.
Mix all these nutrient-packed ingredients for glowing skin. Avocado is packed with nutrients and has been proven to improve dry, dull skin complexion from the inside out by building skin cell membranes. Spirulina powder helps tone the skin for a more youthful appearance, and combined with the vitamin K found in spinach it is the most ideal nourishing cocktail for your skin.
2. Coconut Water Smoothie For Radiant Skin
Ingredients:
1 cup coconut water
1 cup strawberries (frozen or fresh)
one cup organic carrots
one cup mango chunks (frozen or fresh)
1 peeled orange
This recipe gives you sufficient to make two smoothies, so you can leave one in the fridge for later or share one with a co-worker and earn extra points. Mango and orange contain a ton of vitamins: A, B, C, E and K, and they are the ideal way to sweeten your smoothies. Strawberries are also a huge source of vitamin C, ideal for increasing collagen in the skin, while carrots provide the anti-aging antioxidants necessary for glowing skin.
3.Orange Anti Rosacea Smoothie
Ingredients:
3 carrots
2 tablespoons lemon and orange zest
½ cup sweet pumpkin
½ teaspoon ginger
and ½ teaspoon turmeric
Ice
This smoothie is high in beta carotenes. That is, cell protectors that, along with ginger and turmeric, are anti-inflammatory foods par excellence. Until never rosacea!
4. Anti Aging
Ingredients:
½ beets
½ cup berries
and ½ cup raspberries
½ teaspoon turmeric
Ice
Although a little wrinkle "here and there" is inevitable, the red pigments of beets, berries, and particularly raspberries will provide you with a large amount of antioxidants that can help to hide and, more importantly, delay the signs of passing. weather.
5. For Sunburn
Ingredients:
1 slice of melon
1 peach
one carrot
Parsley
After a long exposure to the sun, if you notice that your skin is red, sore, or sensitive, prepare this smoothie with melon, a fruit very rich in water that provides the necessary hydration.
Also Read: SIX MYTHS AND FACTS ABOUT FACIAL SKINCARE