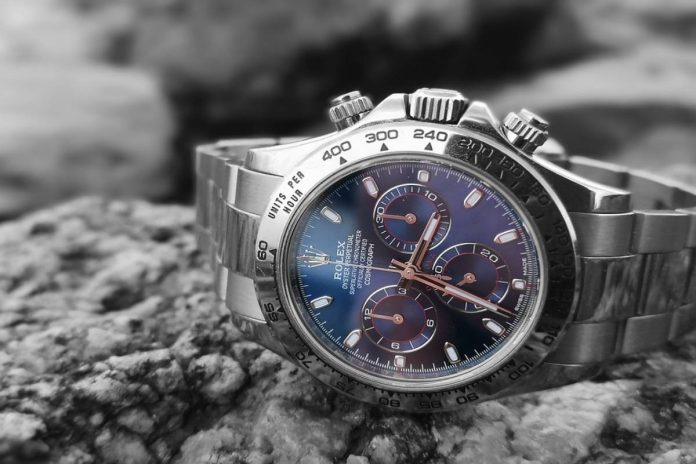 When we talk about luxury watches, you might think of one brand, the first thing: Rolex. We do not blame you, nor are we shocked about this. We cannot deny that Rolex is one of the most influential brands among luxury watches. Rolex truly exemplifies the best things that Swiss watches have to offer: perfect craftsmanship, intricate precision, and trailblazing designs. Celebrities, A-listers, personalities, and even respected presidents appoint Rolex watches as their trusted ticking companion. Some watches become too valuable among all Rolex watch models that they hold places in the world records. As for Rolex watches, we can share with you today a few of its most expensive pieces:
Eric Clapton's Rolex "Oyster Albino" Cosmograph Daytona: sold for $1.4 million (May 2015)
Almost all Rolex's watches are of the best quality, such as the Rolex Explorer II, Rolex Day-Date, and more. Today, we will start the list with a Rolex Daytona. This Rolex Daytona is also called an Oyster Albino Cosmograph because of its color. Sotheby's auctioned Eric Clapton's Rolex Daytona in New York in 2003 for $505,000. The Phillips auction in Geneva put Eric Clapton's Rolex Daytona up for the second time. They hammered it at the price of $1.4 million.
Marlon Brando's Apocalypse Now Rolex GMT-Master: sold for $1.952 million (December 2019)
The Phillips auction put this Rolex GMT ref. 1675 for auction and sold it for $1.952 million last December 2019. You may wonder why this watch is special. Actor Marlon Brando wore this watch in the movie Apocalypse Now in 1979.
Marlon Brando is also an Academy Award winner. He wore this watch with a black strap and yes, with a missing bezel. This watch has Marlon Brando's name engraved on the back, which is why it became extra special.
Antimagnetique Reference 4113 from 1942
The 1942 Antimagnetique Reference 4113 must be the oldest, most expensive Rolex watch ever sold. The Phillip's auction put this watch up for auction in Geneva in 2016. A bidder bought the watch for $2.5 million. It has a large case of 44mm—the timepiece with the biggest case among Rolex watches. Today, only 12 of these exist. Rolex produced this watch to celebrate the winning of a racing team.
In 2013, Christie's auctioned a similar Rolex model and hammered it at $1.16 million.
The Rolex Bao Dai
Many watch fans will easily recognize this another iconic watch. The Rolex Bao Dai was the most expensive watch in the Rolex collection during its time. Anyone can recognize this because the last emperor of the Nguyen dynasty of Vietnam bought the watch with reference 6062 in 1954. 
The watch has a black dial and a gold case with rare configurations. Rolex only produced 3 of these models. However, the Rolex Bao Dai is the only one with diamond markers among the 3. 
The Nguyen family sold this watch for $235,000, which easily became the highest price paid for a Rolex watch in 2002. In Mat 2017, this watch saw the limelight again as it was put up for auction at Philips, Geneva. The auction hammered this watch for a price of $5.1 million.
The 1971 Rolex Daytona Reference 626 Unicorn
When you see the 1971 Rolex Daytona Ref. 626, it will make sense to you why this timepiece is priced at about $5.9 million in 2018. During its time, it was the only Rolex model with an 18K white gold. This is also why the watch is also called "Unicorn". John Goldberger, a renowned Rolex collector, acquired the Unicorn watch in 2013.
Paul Newman's Rolex Daytona
This most expensive Rolex watch in history is a Rolex Daytona owned by actor and professional race car driver Paul Newman. This timepiece also holds a place as one of the most expensive luxury watches in the world. The Paul Newman Rolex Daytona sold for $17.8 million back in October 2017. The bid for the watch started at $1 million at the Winning Icons auction in the Phillip's New York headquarters at 57th and Park Avenue. Its first bidder set the bid high at $10 million. The auction finally hammered the watch at the price of $17.8 million, with a bidder in the telephone sealing its final price.
What makes this watch so valuable is its story. Joanne Woodward gave this Rolex watch to her husband as a gift when Paul Newman played the movie "Winning." It had engravings at the back saying, "Drive Carefully, Me".
Have your special Rolex watch
Here are just some of the most expensive Rolex watches. Without a doubt, this only shows how valuable such watches are. You can own a special Rolex watch even if it was just bought from the store! Buy your Rolex watch and have it as your reliable companion during important moments of your career.