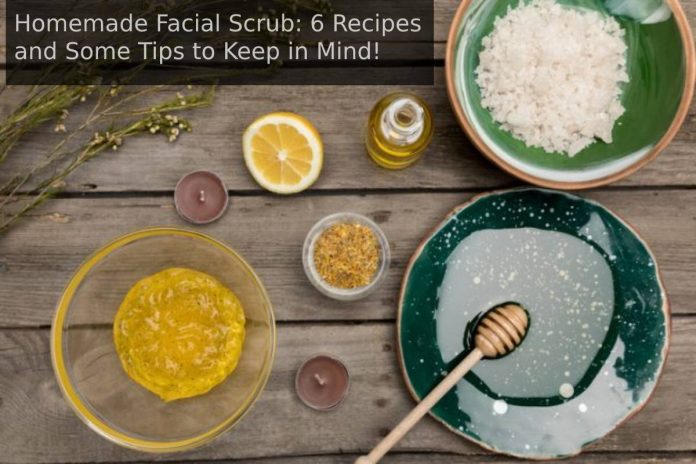 We have all resorted to homemade beauty remedies inherited from our mothers and grandmothers. Who has not used cucumber slices to decongest puffiness and dark circles? Or a little olive oil to hydrate dry skin? You can also make your homemade facial scrub, which will help you have prettier skin.
It is significant into account some important aspects before: if you have sensitive skin or some pathology such as rosacea, atopic dermatitis, acne… we do not advise you to use a homemade scrub, as it could be counterproductive for your skin. When using cosmetics made by yourself, keep in mind that you should not save the excess product. Prepare the mixture when you are going to use it, and discard what is left over.
In exfoliation, an important step to eliminate dead cells that can cause that dull tone typical of aging skin, it is essential that you do not overdo it. It is sensible to exfoliate the face once a week (two in the case of oily skin ). The exfoliation is done gently through circles with the fingertips, without pressing excessively.
Also Read: Masks with Honey for the Face
Here are six recipes with these tips in mind so you can make your homemade facial 3scrub.
HOMEMADE SUGAR AND OIL FACE SCRUB
Sugar is the star component of homemade facial scrubs, and you can mix it with different ingredients such as olive oil. Mix three tbsp of sugar and two tablespoons of olive oil. Apply to the face, leaving it to act for 10-15 minutes, and remove plenty of warm water.
OATMEAL AND HONEY SCRUB
The most common ingredients to prepare a homemade facial scrub are oats and honey (a bit sticky, yes). In this case, you also have to add an egg white and a tablespoon of yogurt, as well as half a cup of oatmeal and a tablespoon of honey. Mix everything with the help of the blender and ready to be applied to the face. You can substitute oatmeal for almonds, which also work very well as an exfoliator.
HOMEMADE FACIAL SCRUB WITH COFFEE
Coffee is also an excellent scrub that you can also use with other ingredients. For example, adding coffee grounds to a moisturizer is simple and effective as an exfoliator. Another option is to prepare a mixture of coffee, sugar, and plain yogurt.
SCRUB WITH YOGURT AND STRAWBERRIES
Thanks to their small seeds, Strawberries are another ingredient to prepare a homemade facial scrub. Crush a handful of strawberries with natural yogurt, and you have a mask with exfoliating power ready. Apply to a clean face, massage gently, leave it on for 10 minutes, and remove with water.
OATMEAL AND MILK SCRUB
You need three tablespoons of powdered milk, half a cup of flaked oats, and a tablespoon of water. Place the oats and milk in a container, then add the water and form a thick paste. Apply the mixture on a clean face, massage gently, and remove with warm water.
SCRUB WITH RICE AND WATER
To prepare this facial scrub, you need half a base of raw rice, five drops of coconut oil, and two tablespoons of water. First of all, you have to mash the rice. Afterward, it is mixed with water and coconut oil, and you can now spread it on your face. After a few minutes, wash your face thoroughly with warm water.