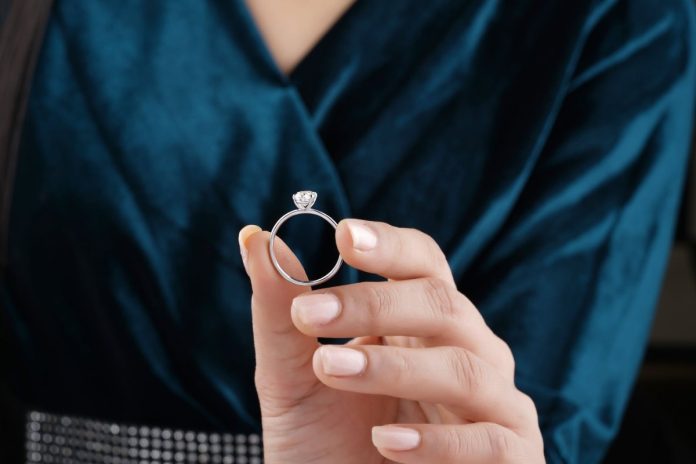 A solitaire ring has been around for centuries. It's probably the first engagement ring that comes to your mind when you are about to pop a question. Timeless in appeal and minimalistic in design, solitaire has won over the hearts of millions of couples and remains the number one choice for diamond engagement rings.
The original setting features a single sparkly diamond held by a couple of prongs on a thin metal band. However, traditions have changed, and today's solitaire refers to any ring flaunting a sole stone. The modern style allows mounting a gorgeous diamond into a split, twisted or even vintage band.
Let's Dive Deeper into the Alluring Qualities of Solitaire:
A value that lasts. The larger diamond is scarcer and retains value much better than a stack of tinyones. By investing your money into this glittering jewel now, you'll get a favourable resale or trade-in later. Plus, one diamond is easier to certify and insure.
Accentuated beauty of the diamond. We feel confident your beloved would appreciate an eye-clean stone with exquisite brilliance. Solitaire brings the diamond to the fore and showcases its strong points. In addition, you get to examine all the characteristics, like cut, colour and clarity, before picking a setting. It won't take an expert to see whether a diamond is flawless.
A safe bet. Chances are, your partner will love a solitaire. The great thing about conventional rings is their universality. If you don't know your partner inside and out yet, stick with what's solid.
Easy-peasy maintenance. You can take care of your ring at home without any trouble. All you need is a soft toothbrush. To check for the traces of dirt or to inspect for damage, prongs looseness and chipping, you can order a 10x Jeweler's Loupe or bring your ring to the professional.
Cheap mounting. While you'll have to splurge on the diamond, mounting is where you can save up. Better yet, present her with a simple band ring and offer to shop for the desired setting later. Thus, you won't spoil the surprise, and she'll still get the ring of her dreams.
Unsurpassed combinability. Solitaire diamond goes with practically every setting and fits neatly against other rings.
Solitaire Diamond Ring Catch:
Average equals small. With solitaires, the price for bigger carats skyrockets. You can often find one larger diamond more expensive than 20 tiny ones. Therefore, the average carat weight for an engagement ring is about 40 points.
Since solitaire underlines the main stone, you might want the latter to be gigantic and pompous. Consider 0.50 + carats for the wow effect and be ready to spare no expense.
Since the attention is drawn to the diamond, all kinds of blemishes will be visible to the naked eye. Thus, you'll have to opt for the nearly perfect cut and excellent colour and clarity grades.
Raised setting. You may not notice it, but the ring's foundation is lifted, making it prone to dents and scratches.
Now that we've outlined the major pros and cons, the final decision is up to you. If the magnificent solitaire meets your criteria, there's nothing left for us to say except: "Check out the thrilling collection at GS Diamonds."