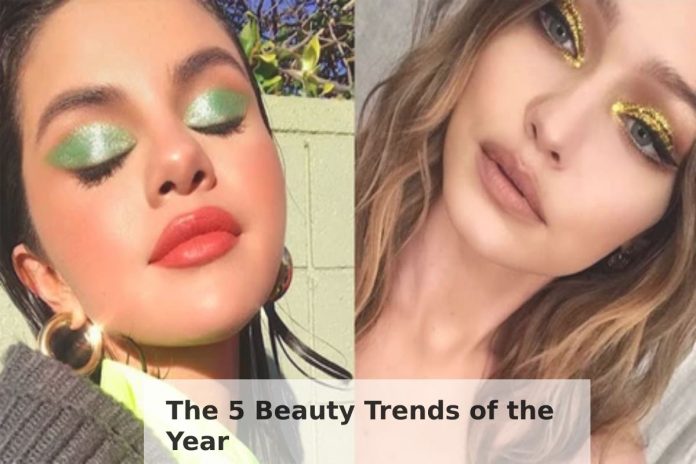 Beauty Trends : Of all the beauty looks that are added to social networks every day, only a few manage to become trends that even famous ones adopt.
Mauve Eyeshadow
If chocolate and pink colors had a child, it would be mauve. And it is ideal for all skin tones! – contrasts perfectly with your contour and tan. It is also perfect for any occasion.
Combine it with earth and brown shadows and if you want to add extra light to your eyes, apply light shadow or highlighter on the tear duct, under the eyebrow contour, and on the eyelid.
Manicure
Like the color of the lips, we usually spend a lot of time deciding the color of the nails. Especially if you are one of those who are obsessed with creating a complete look from head to toe, you can take a trial on gel manicure designs.
So if you usually choose to change your blouse because it doesn't match the shade of red on your nails, or you end up running to the pharmacy for nail polish remover and cotton because you despaired of the color you had chosen – this will be your color!
Say goodbye to neon shades! It's time to give your nails a simpler but equally beautiful look – unless you bite your nails, yes my friend, it can't be fixed. Find out why you do it and (above all) how to stop doing it.
Dewy Makeup
At some point or another, we have all tried to get that inner glow of Jennifer Lópe z makeup but we ended up buying products with glitter and we ended up looking more like a disco ball than a diva under the light.
The truth is that when you get it right, you get a feminine and natural look with hydrated skin. And the good news is that there are already tricks to amplify your glow.
The dewy makeup technique is the perfect combination of removing shine from the sides of the nose, forehead, and chin – and bringing luminosity to the cheekbones, the arch of the eyebrow, and the tip of the nose, creating a skin effect. satin.
But beware! do not try it with the beauty products that you already bought years ago – batteries with an expiration date!
Eyebrows
For none is it a mystery that big and plump eyebrows are the trend of the year. And since not all are fortunate enough to have the (desired) amount of hair in that area specifically, beauty addicts did not sit idly by.
Blue Lips
Do not you dare? Well, you will surprised to know that it is a tone that looks good on everyone, regardless of the color of the skin.
Experts recommend using it with a foundation with a luminous finish and not overdoing it with bronzing powders.
And above all, it is essential to outline your lips with a pencil of the same shade of blue with which you are painting your lips. Dare to follow the trend, it may surprise you! As you may also need to be (very) clear on how to solve a beauty emergency.
But if Beauty Trends definitely does not turn out to be your thing, we have the (curious) tip to choose your ideal lipstick.
The secret is to combine it with the color of your nipples. We know what you're thinking: weird..very weird. But the truth is that the theory behind this discovery is very simple: the shade you have chosen is sure to complement your skin tone
Also Read 5 REASONS YOU SHOULD CONSIDER BROWN OVER BLACK EYELINER