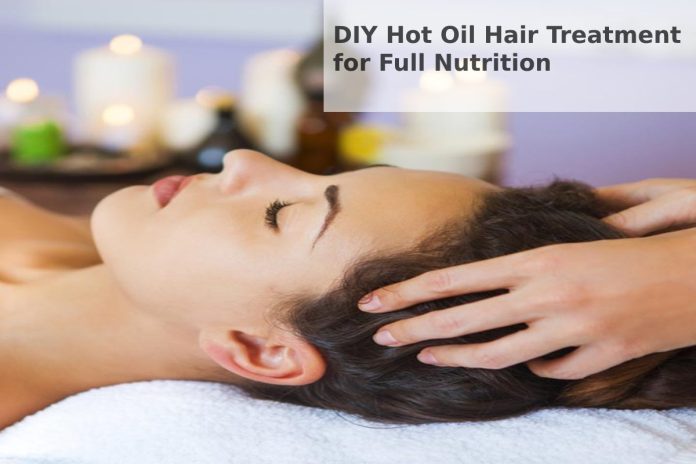 DIY Hot Oil Hair Treatment : Haircare can prove to be a massive threat to most people at some point in their lives. We have all tried to deal with hair problems, whether it is hair loss or damaged hair. Massaging her mane with beneficial oils is an ancient secret that Indian women have known and practiced for generations to keep that elusive, healthy, and luscious hair. While oiling is essentially a tedious job that leaves hair greasy and sticky, it is also one of the most effective ways to protect it from the harsh and polluted environment around us.
When caring for dry, brittle hair, hot oil treatments are a popular choice due to their additional relaxing effects. While you can go to the salon for a hot oil massage, you can also try a do-it-yourself (DIY) treatment at home. Nowadays, more and more people are choosing to lead healthier and greener lives. Organic hair oil is an excellent option for her, enriched with clean, green ingredients. Organic hair oils are formulating from plant resources typically grown in the fields. There are many reasons why the hot oil massage technique has stood the test of time and has benefited many people.
Benefits of DIY Hot Oil Hair Treatment
Increase Hair Growth
Massaging your mane with warm organic hair oil such as horsetail pepper oil stimulates blood flow to the affected area. It leads to a better distribution of nutrients to the hair follicles, which nourishes and strengthens the hair.
Prevention of Dandruff
Dry skin on the scalp is like conditions that lead to dandruff. Including regular hot oil treatment in your routine will keep the scalp healthy. The sebaceous glands produce sufficient natural oil to save the scalp beneficial.
Reduces Damage and Frizz
Its steady topical application of organic hair oil intensely repairs the cuticle to fight against wear and prevents split ends and hair breakage. It nourishes your curls to bring out an inherent shine and gives them a shiny texture. The warm oil layer also creates a protective layer on the hair, preventing harmful UV rays from damaging it. It also helps in dealing with unnecessary frizz.
Prevents Premature Graying of Hair
Organic hair oil has another significant meaning for aging people. Applying hot oil provides the hair with much-needed nutrients, and the resulting blood flow to the hair follicles ensures that your hair retains its color. It also customs a protective cover around the strands of hair, protecting them from pollution and the damaging effects of UV rays that can lead to thinning.
Stress-Buster
Treatment with organic hair oil, hot oil relaxes the mind and is an overall calming experience.
Preparation of a DIY Hot Oil Hair Treatment
Do-it-yourself hot oil treatment at Homespun is highly trouble-free and provides noticeable results in a short time, even if religious observance is complete. Let's take a look at the steps behind a healthy hair care session.
Depending on the hair volume, take a few tablespoons of organic hair oil in a glass bowl.
Fill a saucepan halfway with water and place it on a stove. Put the glass bowl with the oil in the pan and let the oil warm up with the boiling water. It is the double boiler oil heating method.
Dip your finger in the oil to check the temperature and take it out of the oven when the weather is satisfactory.
Detangle your tangle-free hair using a hairbrush or wide-tooth comb.
Dip your finger in organic hair oil and distribute it evenly. Cut your hair in half and massage your scalp with the oil in circular motions for 5-10 minutes until it is completely absorbing by the hair follicles.
Once the scalp is covered, take the remaining piece and apply it to your hair strands.
Let organic hair oil sit in your hair for an hour or overnight.
Wash your hair with organic shampoo and conditioner your hair.