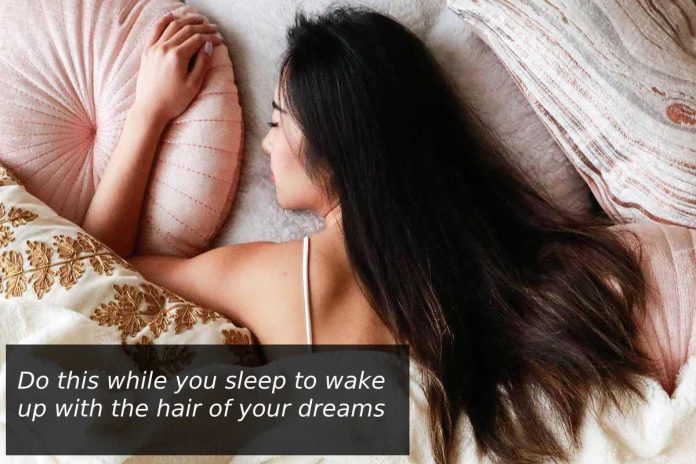 Hair of your Dreams While you sleep, your body, mind, and almost your entire body regenerate. That is why it is so important to think of a nighttime routine for your hair and skin. It can also help you save precious minutes of sleep in the morning. How? Putting an end to knots, frizz, unwanted marks, tangles, or flattened hair before they even form.
Protecting your hair with the right material, accommodating it in a certain way, are just some of the ways that you can give your hair an extra sweetheart and that the next morning you will be grateful. Discover these six tips, click the snooze button, and get ready to leave behind the nightmare of a "bad hair day" and start having only sweet dreams.
Also Read: How to Deal with a Dry Scalp
1. Invest in a Silk Cover
Apparently, the hair of your dreams especially begins where or what you are sleeping on. It turns out that cotton pillowcases are not good because they can dry out your hair. On the other hand, the silk ones help your hair to wake up without wrinkles, marks or tangles. And the best of all? They are great for your skin too.
* Pro-tip: if you need to save a few bucks, satin will serve the same purpose at a lower price.
2. Use an Overnight Treatment
Conditioners, styling products, and serums are sometimes just not enough. Fortunately, there are hundreds of products on the market designed to work at night to restore hydration to your hair.
* Pro-tip: completely cover your hair with the formula and put on a shower cap to get the most out of it (and prevent staining on your luxurious new silk cover). You will have to wash it in the morning but the result will be worth it, although there are also formulas that do not need rinsing the next day.
3. The Key
Silk or satin covers are a good start, but if in addition to wanting to take care of your hair you want to avoid the unbearable "bad hair days", choose to wear a silk hat or scarf. This answer seems to have fallen from heaven because its effect is miraculous: you regain hydration, avoid split ends and wake up with hair so perfect that it will seem impossible to believe that you just got out of bed.
4. Protect your Curls
Securing your hair to the top of your head, regardless of its texture, makes styling and styling easier in the morning. knot your hair up in a high ponytail, then wrap a scarf around it and indulge in the sweet dream of intact hair the next morning. And if you have very long hair, start by detangling it, then opt for a classic ballerina bun or "bun" at the top of your head and secure it with a bow or soft rubber.
* Pro-tip: use rubbers or silk scrunchies.
5. The "Twist & Shout" Step
No, it is not necessary to sing, but at least this way you will never forget it: braid your hair before going to sleep! Regardless of the length or texture of your hair, whether it is a traditional, double or fishtail braid, the truth is that it is the most comfortable option. They will also help to form or maintain the perfect curls and waves.
Also Read: 10 Easy Ways to Grow Your Hair