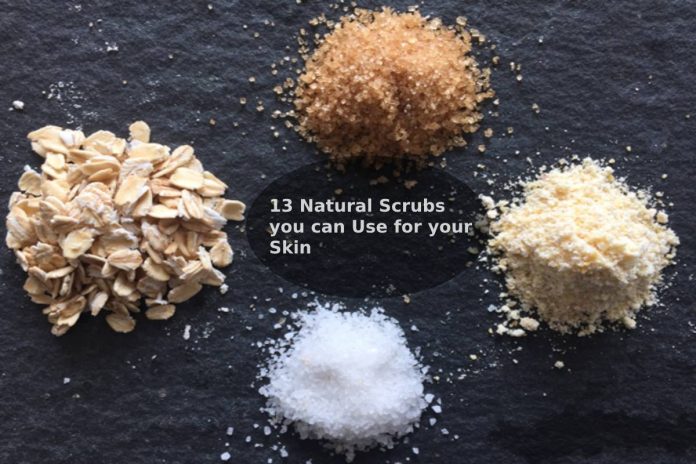 Natural Scrubs improve skin texture, unclog pores, and can reduce the appearance of fine lines and wrinkles. It is essential to always moisten the Skin before exfoliating it to avoid damaging the capillaries.
Also Read: 5 Face Masks with Turmeric to Remove Acne Scars
1. Coffee as a Scrub
Add some coffee to a cleansing cream. Moisten your face and make circular movements. Wash off with lukewarm water.
2. Milk and Oatmeal Scrub
Mix well two tablespoons of powdered milk, half a cup of ground oatmeal, and a teaspoon of cornstarch. Add water little by little until it forms a dough. Let the mixture sit for a minute. Apply the mixture to your face and neck with a massage. Wash off with water.
3. Granola Scrub
Make a paste with `1/2 a cup of granola mixed with a bit of hot water. Moisten your face and apply it to the skin in circular motions. Wash off with lukewarm water.
4. Linseed and Honey Scrub
To keep your elbows and knees soft and beautiful, mix 1 cup of honey with 1/2 glass of warm water. Add 25 grams of flaxseed and stir until you have a paste. Put the pasta in the refrigerator for three hours. Rub the paste on your elbows and knees and let it work for three minutes. Wash with distilled water.
5. Natural Brown Sugar Scrub
Mix some brown sugar with cleansing cream. On a wet face, apply the mixture in circular motions. Wash off with lukewarm water.
6. Sugar and Lemon to Exfoliate the Skin
Put two tbsp of sugar in a cup and add the juice of half a lemon. After washing your face, with your face still wet, apply the mixture to your face in circular motions. Leave on for 5 minutes and rinse with warm water.
7. Buttermilk and Salt
Mix buttermilk with table salt until you have a paste. Diminish your face and apply the mixture in circular motions. This natural scrub will help you reduce open pores.
8. Exfoliate the Skin with Honey and Oatmeal
Mix a quarter cup of oatmeal with a teaspoon of honey. After washing your face, with your face still wet, apply the mixture and leave it to act for 15 minutes. Wash off with lukewarm water.
9. Natural Sugar and Olive Oil Scrub
Mix 1/4 cup of sugar with three tablespoons of olive oil. Apply it all over the body with a circular massage while you bathe.
10. Rosehip Scrub
This scrub is unique for removing crow's feet. You pour a tablespoon of dried rosehips into 1/2 cup of boiling water. Let it rest for 15 minutes and let it cool. The infusion is applied on the crow's feet with the fingers and left for 3 minutes. It is removed with a damp cloth.
11. Scrub for Blackheads
Put a little glue on the black point and let it dry. Then you pull it, and it comes with everything and the dirt. In addition, white gum is also an excellent natural exfoliator if you put a thin layer on the skin, let it dry and pull it carefully.
12. Full Body Scrub
This natural turmeric body scrub is suitable for all skin types and can be used whenever desired. It is perfect for callused areas, making them softer.
All you need is a quarter cup of sea salt and a quarter cup of coconut or olive oil. The two ingredients are mix well, and the body is massage (the Skin must be moist) using the mixture.
Don't rub the Skin. Just massage it until it turns pink. Rinse with lukewarm water and towel dry.
13. Chocolate Body Scrub
This scrub will gently polish your skin. The sugar will reveal a smoother texture, while the oil and cocoa will rejuvenate your skin tone.
Stir in 1/2 cup of sugar, 1/4 cup of canola or grapeseed oil, and two tablespoons of cocoa powder. Please put it in a jar with a lid.
When you shower, moisten the Askin and massage the body with the chocolate scrub. Rinse off as usual. The mixture can last up to four days if stored tightly covered in a cool place.
Also Read: Masks with Honey for the Face