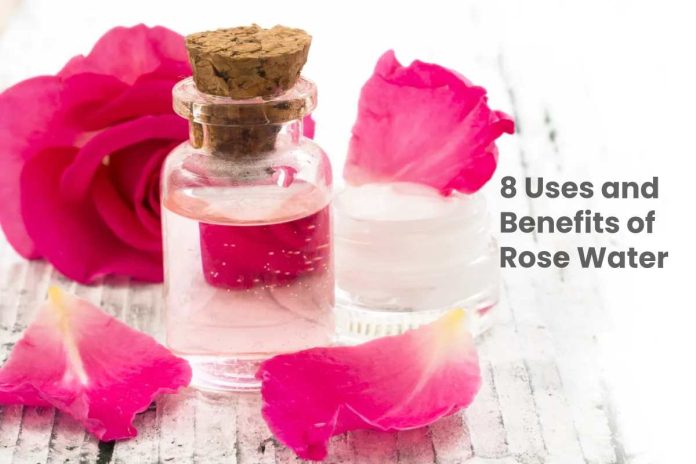 Rose Water – Roses are red, water is light blue, and when you mix the two, you get a powerful beauty potion that hydrates, heals, and maintains the skin's pH balance. And also, this is not just a rhyme, it is one hundred percent real! (Except maybe the water is blue).  In addition, the use of rose water dates back centuries, when the Romans dropped petals in their water and came to connect more with Venus, the goddess of love. It is even supposed that Cleopatra bathed in goat's milk, honey, and roses. And to this day, experts still agree: rose water has a number of health benefits. Discover how you can add this romantic ingredient to your beauty routine and make it your new beauty must .
Pre-mask
If you plan to apply a mask during your spa time -home or professional-, first put a little rose water on your skin. This will work as a base and thanks to its hydrating and soothing benefits your mask will penetrate better and more deeply.
Toner
This is usually the second step between cleansing and moisturizing, one of the classic products of the "artillery" of facial care, and yet we do not always include it in our beauty routine. Rose water works great as such, and because of its antibacterial, soothing and relaxing properties it will do wonders for your skin. You just have to apply a little bit on a cotton ball and rub it over your clean skin with a light massage.
Refresh
As we recommend applying a little thermal water to refresh the skin, if you are obsessed with the idea of ​​rose water you can substitute it. Thanks to all its properties, it will help you calm the skin, relax it, hydrate it and give it a spectacular glow .
Set Your Beauty Look
To set your makeup, you can use a little spray of rose water on your face. This will work as a fixative and will help you in addition to hydrating the skin.
Hair rinse
If your hair feels dry, brittle or very weak, rose water is the best solution. Add 2 tablespoons of rose water to a cup of hot water and apply it to your hair after shampooing and conditioning. However, It will give your hair more shine, softness and texture.
Post waxing
Many of us feel irritated skin after waxing. Just apply a little rose water to the area and you will be able to calm and soften the skin.
Body lotion
If you go through from very, very dry skin no matter how much cream you apply, use a little rose water. Just add about two teaspoons to your body cream, and apply all over the body as you normally would, you will feel super hydrated instantly.
Makeup Remover
If you struggle with makeup at night, seeking to remove every trace, roses water works very well both to remove makeup and to simultaneously hydrate your skin. And also, Add a some drops of coconut oil to rose water and you will get how to remove make-up permanently.
Also Read: SIX MYTHS AND FACTS ABOUT FACIAL SKIN CARE