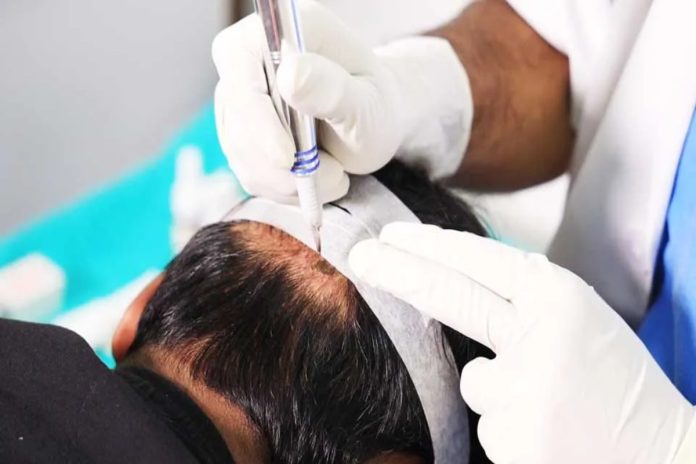 Scalp Micropigmentation treatment: Everybody knows that your entire body can be a canvas for creating tattoos, but the lesser-known fact is that you can even do it on the scalp of the head. Yes, you can do some tattoo on your head but for a different purpose. Tattoos help people express their thoughts, feelings, and emotions through body art, but a tattoo on the head has nothing to do with aesthetics.
SMP hair tattoo treatment is a form of non-surgical hair treatment that helps to create an illusion of tiny hair follicles appearing on the scalp like a thin black carpet that replicates natural hair and takes care of balding.  People who experience considerable hair loss but are not interested in surgical hair replacement procedures are ideal candidates for hair tattoo, which is a modern hair treatment. The treatment helps to create a new look while doing away with balding.
SMP – a sure remedy for hair loss
Hair tattoo treatment is never the first choice of people who want to retain their hair almost in the way it existed before it started getting scanty and raising the fears of balding.  Only when people exhaust all other options of hair loss treatments without any results, do they turn to Scalp Micropigmentation or SMP that provides a solution in many different situations. The most crucial aspect of SMP is that it will never let you down because the procedure is 100% successful. The high success rate is due to the treatment technique similar to doing some semi-permanent makeup that will give a fresh buzz cut.
Treatment for thinning hair
To know whether you should go for SMP treatment, you must first understand whether you are a suitable candidate.  If you suffer from mild to moderate hair loss, which leads to hair thinning but a few years away from becoming completely bald, you can indeed consider the Scalp Micropigmentation treatment.  If the hair density is lesser in some areas of the scalp with signs of thinning, then the treatment should help you create an illusion as if you have undergone a haircut.
By filling up the thinner areas, it is possible to create an appearance as if continuous hair coverage across the scalp helps avoid unwanted attention while providing the most natural looks.
Prevent scalp exposure
Before deciding to start the treatment, you should have the right expectations about it so that you do not feel let down later. The purpose of the treatment is to hide the scalp under a layer of hair so that the skin does not become visible. You may have some spots where the hair is thinning fast, and you want to cover it before the condition aggravates, or you have some bald patches resulting from alopecia or some other health condition. In both cases, hair tattoo treatment is effective.
For the former type, it is possible to retain the existing hair while undergoing the treatment. Those experiencing even partial balding in patches must be ready to attain a new look of the shaved head with early signs of hair growth.