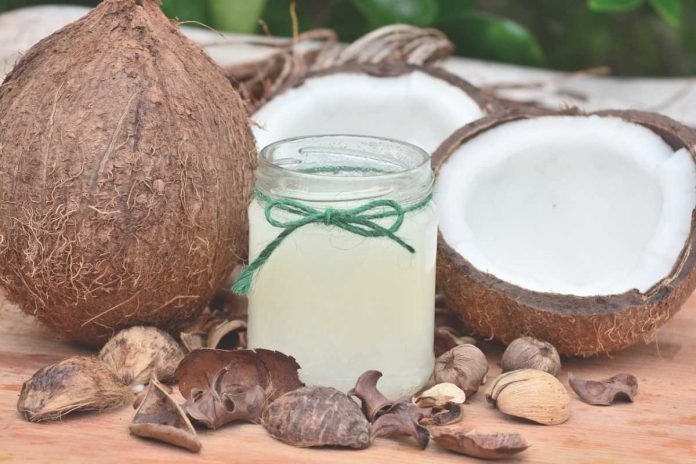 Coconut oil is a plant-based product that has gained fame in recent years thanks to its medicinal and cosmetic applications. It comes from the pressing process of coconut pulp, which  is composed almost entirely of medium-chain fatty acids and antioxidant substances.
Given its nutritional richness, the industry is using it in the manufacture of shampoos, creams, soaps and other cosmetics to beautify skin and hair. However, there are those who prefer to use it in its natural state because they consider it to be a more effective way to take advantage of its properties.
In what has to do with hair health, this essential oil is recommended as a revitalizing and restorative. Its active compounds reverse the damage caused by the environment and regulate the production of oils to treat dryness.
As we know that many have not yet tried it for this purpose, today we want to share 5 interesting ways to take advantage of it. Which one do you prefer?
Coconut Oil as a Hair Conditioner
Due to its texture, aroma and properties, coconut oil is a great alternative to replace commercial conditioners. It contains no harsh chemicals and packed with root-strengthening vitamins, minerals, and proteins.
Ingredients
2 tablespoons of coconut oil (30 g).
How to use?
The application can be done during the regular hair wash, or as a deep dry treatment.
Take a couple of tablespoons of coconut oil and rub it all over your hair and scalp.
Cover it with a spray cap and let it sit for an hour.
Wash with plenty of water and proceed to comb immediately.
Treatment to Stimulate Growth
This natural ingredient is one of the most excellent allies to promote healthy hair growth. Its composition of proteins, antioxidants and essential fatty acids repair damaged fibers and prevent hair loss.
In addition, its lauric acid penetrates deeply into the scalp and helps hair grow smoothly. However, to reach good results it is recommended to complement its use with the consumption of healthy food and water.
Ingredients
1 tablespoon of coconut oil (15 g).
6 drops of vitamin E.
How to use?
Combine the drops of vitamin E with coconut oil, warm it up a little and rub it with gentle circular massages all over the scalp.
Also, moisten the damaged ends and cover it with a hat.
Leave it on overnight and rinse.
Use it three times a week.
Dandruff Treatment
The  antifungal and antimicrobial properties of the coconut oil have been used as a solution against excess dandruff and its symptoms. Its application calms irritation, reduces flaking and relieves the uncomfortable sensation of itching. Its composition of fatty acids, in addition, stops fungal infection and eliminates this problem at its roots.
Ingredients
2 tablespoons of coconut oil (30 g).
5 drops of tea tree essential oil.
How to Use?
Combine essential oils until you get a homogeneous product.
Apply it all over the scalp and hair with gentle circular massages.
Cover it with a hat and let it act for 20 to 30 minutes.
Rinse and repeat your application every three days.
Frizz Control
You can achieve a perfect hairstyle by using a little coconut oil before frizz or frizz ruins it all. This product protects the hair against the aggressions of heat and UV rays , avoiding abuse and weakening. As a result, you will get shiny hair free of that electrical effect that damages your hairstyles.
Ingredients
1 teaspoon of coconut oil (5 g).
How to use it?
Take the teaspoon of coconut oil with the palms of your hands and gently massage all over the hair.
You don't have to wash it off, unless it feels greasy.
Also Read: What is Olive Oil for Skin? – About, Properties, and More