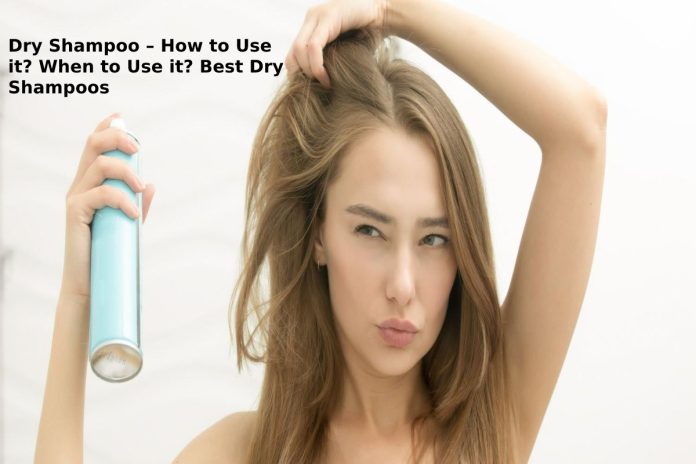 Dry Shampoo
Dry shampoo beneficial for obtaining fluffy and shiny hair in a short time and without washing. It may soon become your number one ally! It is a product full of advantages.
And if you are someone who is always in a hurry (maybe a mom who struggles to find time for herself ), you can easily imagine the usefulness of this shampoo!
Dry shampoo is the ideal solution to wash your hair on the fly without the need for water. Of course, it cannot and must not become a substitute for traditional shampoo.
Instead, it serves to extend the time between one wash and the next., which – as you well know – can only be good for the skin and the hair itself.
Too frequent washing ends up wearing out and stressing, while with dry shampoo, the problem does not exist. A further advantage of dry shampoo is that it allows you to save on water and energy, helping the environment (and your wallet).
Furthermore, this shampoo can help create particular hairstyles, such as a bun, because it gives the hair volume and a natural backcombed effect.
Dry shampoo comes in different formulations, usually in spray or powder form, and sees its main components starch, talc, and beneficial purifying extracts. They can absorb sebum and impurities.
If your hair has been dirty for 2-3 days and you don't have time to wash it, dry shampoo will make your hair shiny as if it had just been passing and make it more relaxed for you to style it.
If you have oily hair, in particular, try it, and you won't be able to do without it.
Also Read: 10 Tips for Using Blush Perfectly Every Time 
How to Use Dry Shampoo?
Using dry shampoo is a rapid and easy process. Whether it is dry shampoo in free powder or the form of a spray, it is sufficient:
Apply the product evenly over the entire hair and, in particular, at the root of the hair.
Dry shampoo spray allows for a more comfortable and more precise application.
The dry shampoo in free powder must be distributed evenly on the head with the help of your hands.
After applying the shampoo, leave it on for about 3-5 minutes;
Finally, brush your hair until all traces of dust are remove. Alternatively, the dry shampoo can be clear with the help of a towel.
After these operations, the hair will be opaque and volumized, thus appearing cleaner.
However, it is good to remember that dry shampoo does not thoroughly cleanse the hair, let alone the scalp.
How is Dry Shampoo Composed?
Most of these products have an alcohol or starch base, suitable for absorbing excess sebum.
The important thing is that it is as natural as possible to avoid scalp problems.
When to Use Dry Shampoo?
Use if you are hospitalized or are in difficulty due to Cervical contractures.
When you are traveling, and it isn't easy to wash your hair normally.
You may use it on the occasion of a surprising invitation or when you don't have time to get yourself in order.
And also, use it when the head needs a refresh, not a natural wash.
When the hair is fragile, dry shampoo can help give body and volume to the hair.
When trying to eliminate unpleasant smells of smoke or cooking from the hair (some products have different fragrances, such as lemon)
The Best Dry Shampoos
Let's see the best dry shampoos available on the market, selected from those that offer the best result and are most appreciating by users.
1. Klorane: Nettle
Klorane has created many types to respond effectively to different needs.
This nettle is undoubtedly the most used, mainly by those with oily or very greasy hair.
Its formulation is complete with nettle extract capable of regulating the production of sebum and absorbing its excess.
In spray format, the product is hypoallergenic and adapts well to any hair color, leaving no residue.
In addition to this nettle, the brand has created a delicate one with oats for sensitive hair.
2. Garnier Fructis Fresh
The Fructis Garnier Fresh is among the cheap available on Amazon.
Suitable for all hair types, this product can refresh hair, keeping it clean until the next wash.
It purifies the hair at the root, has a delicate lemon scent that is not annoying.
Its formulation does not contain silicones, making it lighter on the hair.
3. Secrets de Provence Dry Shampoo
Secrets de Provence's innovation is the ideal travel companion.
It is convenient, practical, and quick to use, perfect for refreshing your hair between washes.
Its cleansing effect is given by a base of oats and rice starch, absorbing fat and leaving the hair clean, voluminous, and shiny.
4. Avon Advance Techniques Dry Refreshes
The Avon Advance Techniques Dry Refreshes is our recommendation when things are going fast, and the hair needs to be refresh sooner.
It's also not white right after spraying, so you can finish your hair straight away without losing shine.
5. Genuine Fresh Up Dry
The Genuine Fresh Up dry shampoo does not perform better than the competition in terms of refreshment.
But no other shampoo in the test left the hair as silky – as if it were freshly blow-dry.
6. Tigi Bed Head Oh Bee Hive
The Tigi Bed Head Oh Bee Hive! Reliably absorbs fat from the hairline without leaving any residue.
The hair remains grippy and has volume. Contained Argan oilavoids a dull finish.
7. Pigeon Shampoo
Dry Dove Shampoo – an effective means of quickly cleaning the hair. It can be use on both dry and oily hair.
It is made in the form of a spray and helps get rid of the hair's oily shine quickly.
The shampoo is sprayed onto the hair at arm's length and combed with a comb.
Use this tool no more than once a week. The cost of shampoo is acceptable even for middle-income buyers.
Recommended for use in emergencies and unforeseen situations. Dry Dove Shampoo does not cause any significant damage to the hair.
Dry Shampoo Ingredients
Most dry shampoos on the market are complete with ingredients capable of absorbing excess sebum produced by the scalp.
The most used are mostly starch, talc, and oats.
Some brands have enriched their product formulations with nourishing or strengthening components such as Argan oil, vitamins, or even keratin.
Another aspect to consider is the fragrance:
Almost all dry shampoos are enrich with different scents that can be more or less persistent.
The advice, therefore, is to test different products to understand which is the most effective for our needs and which one with the perfume that best meets our tastes.
Also Read: Is there the Ideal Hair Removal Method?