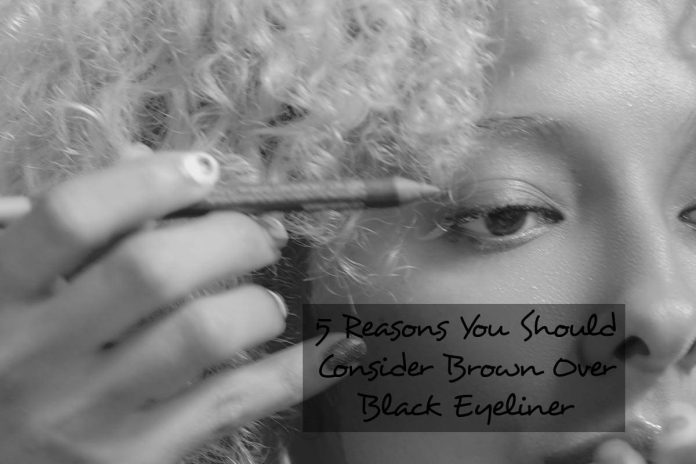 If you look inside a makeup bag, you will most likely come across (at least) one black eyeliner. It's true! Anyone can admit that ever since you started experimenting with makeup, you've surely had a not-so-secret obsession with black eyeliner. But ask any expert and they will tell you that brown and chocolate tones can be less harsh and more flattering for a variety of different complexions and eye colors. And if you just gave it the chance you would realize that it is really fascinating to see the big difference that this little color change can make, from making your eyes look bigger and lashes appear longer.
And if you are still not convinced, these are the 5 main reasons why – once you make the decision – you will have wished you had done it years ago.
It's subtle
One of the main attractions of a brown eyeliner is its subtlety. Being a softer color, you no longer have to worry about your makeup being too intense. Instead, you can comfortably wear the shade at any time of the day. Not to mention, you can pair it with vibrant red lipstick without the fear of looking more ready for a night out than for the office.
But … you can still create daring looks.
Although we praise its subtlety, of course, there are still times when we want to create a dramatic beauty look. Brown eyeliner is great for this too. The color is soft, but still dark enough to add a sensual touch to your look.
It can make your lashes appear longer
If you used to dream of longer lashes, stop doing it! We have the answer. When using a black eyeliner, thanks to an optical illusion, the lashes seem to disappear. However, if you opt for brown tones, your lashes will appear longer and your eyes will appear larger.
It is multipurpose
As we develop a routine, it is less and less necessary to carry a large beauty bag. There are much more important things to carry than a wide variety of products. So the smaller the toiletry bag, the greater the optimization is required, or in other words: multipurpose products. And brown eyeliner is one of those. It can be easily used as an eyeshadow when mixed with water, but it can also be used on the eyebrows. and is ideal!
It looks to all of us
If you have red hair, pale or golden skin, blonde hair, or whatever combination, if you are looking for a more natural appearance, opt for a brown eyeliner pencil, even if it is only to delineate just under the eyelashes lower.
There is no way that brown eyeliner is not a total triumph, it makes everything work, keeping your makeup looking delicate, soft, natural and above all incredibly sexy.
Also Read: GET FIT AND SPEND LESS: LESS EXPENSIVE WAYS TO GET FIT