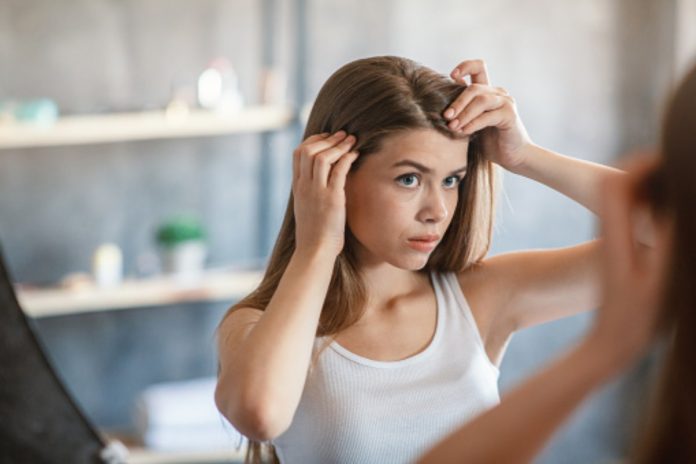 To keep your scalp healthy, you should combat against conditions such as bumps on scalp, itching, inflammation, and redness on the scalp. These are conditions which can cause irritation on your scalp and therefore, it is wise not to let such conditions develop even further, but you should address them.
There are many conditions that can cause your scalp to become unhealthy here we name a few of them: folliculitis, seborrheic dermatitis, head lice and a yeast infection on scalp. It is smart to learn more about these conditions and how to treat them, which is why we recommend you read this article further.
What are the common scalp conditions?
There are a number of scalp conditions that can lead to hair loss an example is seborrheic dermatitis, which is comparable with dandruff. It can cause the scalp to shed resulting into greasy, yellowish scales in the hair. Often dandruff flares with stress and changes in the environment. The inflammation over time might damage hair follicles which can prematurely push the hair from the growth phase into the rest phase. This causes hair to fall out earlier.
Another common scalp condition are yeast infections on the scalp. Candida on scalp is the most common fungus that thrives in warm and moist areas. You can find it on your scalp as red or purple rash, cracks, or patches of the skin. In addition, it could potentially also cause fatigue, digestive issues, and sinus pain over your entire body.
When you are suffering from dandruff or another scalp condition that has an inflamed or itchy feeling, we advise you not to scratch against it because this can damage your hair follicles. When you keep scratching there is a possibility you might also lose hairs. When you suffer from circular patches of baldness this could potentially be a sign of tinea capitis, which is treatable with an exfoliating shampoo and peeling serum that nourish the scalp.
How to treat my scalp?
To give your scalp a real treat you might need to switch to a gentle exfoliating shampoo. Also, washing your hair less frequently, drinking enough water, quitting smoking, and trying to manage your stress could help. A hair care routine that you can apply is the healthy scalp treatment of hair growth company Neofollics. This treatment ensures that necessary ingredients, including minerals and vitamins can take care of your scalp and that impurities are removed from the scalp. In addition, it can effectively combat various forms of hair loss and it reduces the itching and inflammation.