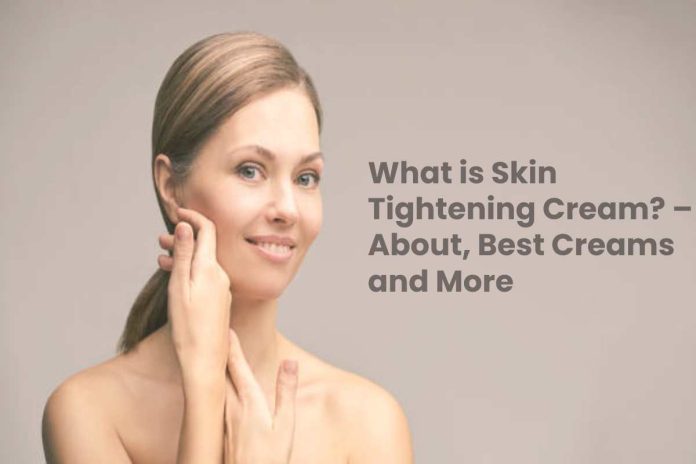 About
Skin Tightening Cream become obsessed with losing the extra kilos doing miracle diets because we see summer is near and we have eliminate cellulite and fat.
But just as important as reducing is fighting sagging.  The chest is one of the regions that suffer the most, but also the arms, legs, buttocks, and belly.  The skin in this area loses elasticity over time, sudden changes in weight, pregnancy, etc.
In addition to having an excellent hydration and health product for your skin. But if you combine them with the practice of some exercise, even walking at a good pace daily, and controlling your weight with a balanced diet. Its components will be responsible for accelerating the results you want when you are executing exercises or any type of physical activity.
Also Read: What is the Anti-Aging Serum?
What is the Best Skin Tightening Cream?
Skin Tightening Cream will not do anything by themselves, they will help you fight against sagging.  Hyaluronic acid, Gotu kola, algae, collagen, elastin, green tea, vitamins C and A, aloe vera. Don't forget to perform a circular massage when you apply them and this way you will favor their penetration.
1.      Somatoline Natural Reducer Gel
It is composed of 95% ingredients of natural origin, among which Caffeine stands out. A fat burner that is also hydrating, antioxidant, and Tightening.  After four weeks of treatment, it promises a reduction of 3.1 cm in hips and 2.9 cm in waist, and a more toned and firmer skin (€ 36.90).
2.      Tightening Cream by a Skin clinic
It contains a high concentration of thirteen natural cosmetic assets that modulate and enhance the action of elastin-collagen-DMAE.  It also provides the necessary nutrients for the stimulation of skin collagen, improves circulation, and allows the natural regenerative function of the skin. (€ 32.50).
3.      Forme-Actif Traitement Corps de La Biosthetique
This intensive care treatment prevents loss of skin elasticity, tightness, increased flaking, and the appearance of cracks. Its problems are caused by diminished hydration retention properties. (€ 41.50).
4.      Freshly Golden Radiance Body Oil
Its formula incorporates twelve of the best vegetable oils. Among which are hazelnut (astringent and Tightening effect), rosehip (treats scars, stretch marks, and flaccidity), and jojoba (provides elasticity, softness, and firmness). (€ 26).
What are the Facts About Skin Tightening Cream?
There are no Tightening products whose results are even remotely similar to those obtained from medical procedures, such as dermal fillers, laser, or cosmetic surgery.
Sun damage and age degrade elastin.
It is almost impossible for the skin of adults to generate more elastin, even with medical procedures.
Most Tightening creams are a waste of money as they do not contain ingredients that can make skin firmer or smoother.
The molecular sizes of collagen and elastin are too large to penetrate the skin.
What is the Work of Skin Tightening Cream?
Almost without exception, when you buy Tightening creams, their effects, if any, are due to ingredients such as film-forming agents.  The effect is momentary and you won't see a noticeable effect on sagging skin, but sometimes that feeling is enough to convince users that the product is working.
1.      The Synthesis of More Collagen is the Key.
Although collagen does not help the skin to be more elastic, it does help the support structure of the skin so that sagging is less evident. You can help your skin make collagen with skincare products that contain powerful antioxidants and repair ingredients.
2.      Use of a Sunscreen SPF 15 is non-negotiable.
Since sun damage destroys collagen and elastin, daily sun protection is essential.  And the main reason why many women's necks and cleavage make them look older.  The anti-aging care of our skin does not have to stop at the face!
3.      Daily Use of a Scrub
That contains salicylic acid (BHA) or glycolic acid (AHA) can help.  A scrub achieves smoother skin, but there is also a lot of scientific research. You don't need to use both at the same time; one of the two is enough or if you wish, you can alternate them.
4.      Vitamin A
It is applied topically can improve the form of elastin that your skin retains.  There is even some research showing that it can build elastin.  The same is true for prescription retinoids like Renova.
5.      Medical Procedures
It is such as lasers and other light therapies like Fraxel or Ulthera have impressive Tightening results on the skin and can also improve sagging.  Instead of spending money on expensive facial Tightening creams that don't work. You could invest the money in these types of dermatological treatments.
Also Read: What is a Facial Serum – How to Apply, Use, and More