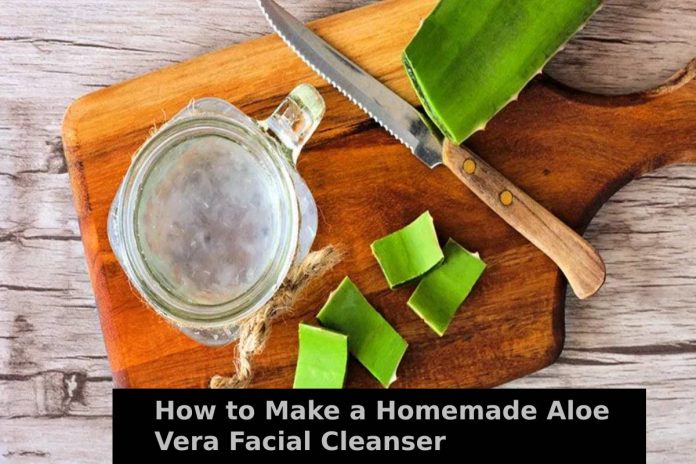 Whether you use a homemade Aloe vera facial cleanser or an oatmeal-based one, washing your face twice a day is essential for beautiful and healthy skin. Have you ever wondered what would happen if you don't do this cleaning? Well, the outlook is not very encouraging.
Unlike extra parts of the body, the face is not covered by clothing, which exposes it to a number of external agents. To protect itself from this damage, the skin creates a moisture barrier from an oily substance known as sebum.
Although sebum is beneficial for the skin, if it remains on the face for a long time it can mix with sweat, dirt and makeup, clogging pores and promoting skin disorders such as acne. Therefore, it is suggested, among other products, the use of natural cleaners based on Aloe vera.
Ingredients needed for an Aloe Vera Facial Cleanser
To wash the face recommends the use of mild facial cleansers and warns of the damage that can be caused by those that are abrasive and derived from alcohol.
Fortunately, there are cleaners with natural ingredients that you can make at home that meet these characteristics. An example, and the one that we will teach you to do, is the facial cleanser of Aloe vera .
The ingredients you need are the following:
1/4 of small cup of Aloe vera gel .
2 tablespoons almond oil .
5-10 drops of lavender essential oil .
2 tablespoons of rose water.
3 drops of vitamin E oil.
Step by step to Prepare an Aloe Vera Facial Cleanser
Once you have gathered all the ingredients, making the facial cleanser is very simple . The steps are the following:
Add all the ingredients to a bowl.
Then mix with the help of a whisk.
Once finished, pour into a gel dispenser bottle.
How to Use?
Before explaining how to use the facial cleanser that you just prepared, you should bear in mind that it is necessary that you use it every morning, before putting on your makeup, and every night after removing your makeup.
That said, the correct application is as follows:
Moisten your face with warm water doing small circular massages.
Gently dry and swab the Aloe vera cleanser on the face, neck, and décolleté.
Rinse with lukewarm water and voila! You can continue with the after that step of your facial routine or apply the moisturizer of your choice.
Aloe Vera: an Ideal Ingredient to Cleanse the Face
According to a study, Aloe vera gel has antioxidant properties. The substances in charge are polyphenols, which together with other plant compounds are capable of inhibiting the growth of bacteria.
Similarly, this gel has been shown to have antibacterial and antiseptic capabilities, allowing it to treat skin problems and speed up wound healing. Both qualities make it an ideal ingredient for a facial cleanser.
Also Read: TIPS TO SLEEP WELL AND WAKE UP FRESH