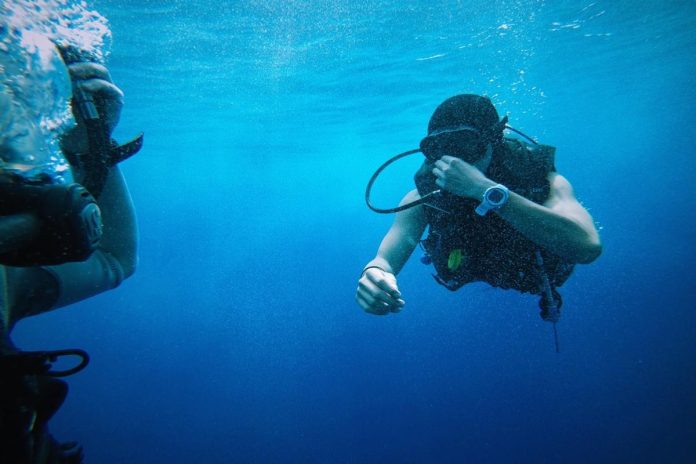 Dive watches are a godsend. Back in the day, dive watches were a significant innovation in the watch industry to help SCUBA divers keep track of their air. The invention of dive watches came at just about the right time when man became more and more curious about development, sciences, and more. Today, we thank the technology from dive watches which allow us to do anything we want wearing our watches. Some dive watches come with a hefty price tag. But some dive watches are affordable and just as durable, functional, and fashionable! Here are some quality dive watches under $500!
1. Bulova Special Edition Oceanographer Green Dial watch
Some think that dive watches always look sporty, which you cannot wear to formal functions. We love that you can wear this Bulova Special Edition Oceanographer Green Dial watch even in the office or at laid-back parties! Of course, as a dive watch, it is still a good quality timepiece! It gives you a 1960s retro look. This 44mm stainless-steel watch has an automatic movement. This piece is one of the perfect Bulova watches for men; its green-colored dial will make you remember why they call this watch a tribute to the 1970s Devil Diver watch. It also has a water resistance of up to 200 meters or 660 feet.
2. Casio MDV106-1A watch
For affordable yet high-quality watches, you can never go wrong with a Casio watch. Your next beach experience will be a perfect time for you to sport a Casio MDV106-1A watch. This 44m watch has a stainless-steel case and a black resin band, taking its inspiration from the sea. Overall, the timepiece gives you a classic look that you can use on any other occasion. It can even pass for a Rolex Submariner as it looks almost like it! You can score this watch for as low as $50 on Amazon!
3. Seiko Prospex SRP777
We all know Seiko as the pioneer of Quartz watches which made the technology of a high-tier quality watch more accessible to many. However, no one can still question Seiko's expertise in mechanical watches. Some even call Seiko the king of raw mechanical dive timepieces.
The brand has again exemplified this excellence with the Seiko Prospex SRP777. The watch's black dial elegantly contrasts with the luminosity of its hands. This watch has a manual winding and a caliber of 4R36. Its case is made of stainless steel while its band is made from silicone. You can take this to the beach and go underwater because it has a water resistance of about 200m. This has a price of about $371.
4. Tissot Seastar 1000 Automatic Dive Watch
Nothing beats the feeling of a good find where you can score an affordable watch from a prestigious luxury watch brand like Tissot. If you are looking for a watch with a classic touch, this dive watch may pass your standards. This watch is so handsome that you might even think twice about taking a dip in the water with it! The good thing is it has a water resistance that can take up even about 300m. This stainless steel watch has a stunning blue dial and a reliable movement of Tissot Calibre Powermatic 80 Automatic to match it. The Tissot Seastar 1000 Automatic Dive Watch has a price of about $495.
5. Citizen Eco-Drive Promaster Diver Watch
We may have already established Quartz watches to be nothing less than mechanical watches, much less automatic watches. This is the same thing with the Citizen Eco-Drive Promaster Diver Watch that has a movement of an Eco-Drive E168 Quartz. It is affordable, yet you get the same. It even has an iconic style with a stainless-steel case and a black polyurethane strap that adds an irresistible contrast. This watch has a bezel for a dive timer. It can catch up with your adventures with a 200m water resistance.
While it's not an automatic timepiece like the Orient above, the Citizen Eco-Drive Promaster dive watch you see here is no less one of the best budget-friendly options out there. That's thanks in part to its iconic styling, stainless steel case, dive timer bezel, 200m water-resistance rating, and (in this particular case) durable and comfortable polyurethane strap. Grab this for only $158.
6. Timex Allied Coastline watch
This beautiful watch got its inspiration from the stormy sea with its dark color and white hands and markers which make you think of lightning. This 43mm watch has a case made from low-lead brass. It has a water resistance of 100m. Get this for only $99!
A good dive watch for you
While it is still summer, it is good to invest in reliable watches that you can wear in the water. Here are just some of the reliable watch brands that you can afford for less than $500! Make sure that you purchase these watches only from reliable boutiques and online stores!