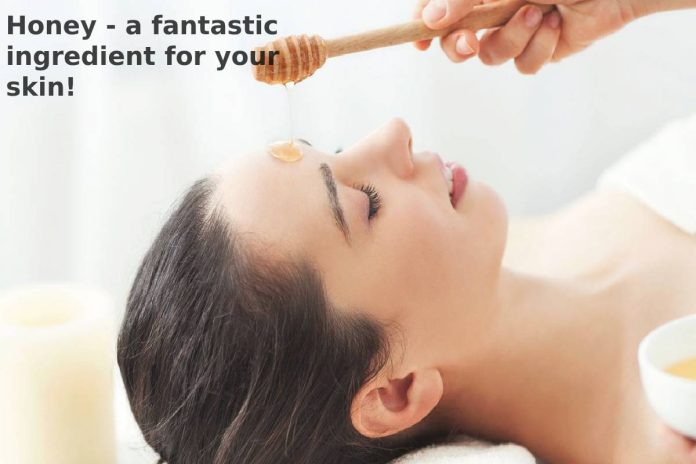 Honey for Skin
Honey for Skin : For centuries, Honey has been an integral part of our lifestyle. From being used for cooking to being tried for the treatment of various diseases. The reputation and credibility of Honey as a magic potion for the overall external and internal health of the body have remained unshakeable. As a powerhouse of essential nutrients. Honey has been a favorite of nutritionists, dietitians, beauty experts, and naturopaths for well-defined reasons.
Some Facts
It periods back more than 4000 years.
Mixed with other herbal provisions, Honey enhances the medicinal value of the products.
Honey does not spoil. If stored well, it can last beyond its expiration date.
It is a natural and better substitute for regular sugar.
An instantaneous energy booster, athletes and fitness fans often rely on Honey to improve endurance levels
It is a rich source of antioxidants and flavonoids that are beneficial for health.
Its potent antibacterial properties help keep bacterial and fungal infections at bay.
Why Honey for the Skin?
Using pure raw organic honey for your skin is always a good idea.. Diverse natural ingredients found in your kitchen make for an effective and inexpensive beauty treatment. Applying Honey regularly to your skin can give you results beyond your imagination and lead to healthy, youthful, and glowing skin.
What are the Benefits of Honey for the Skin and Face?
Hydrates the skin deeply.
Acts as a pore cleanser
Gentle scrub
Lightens scars
Useful in sunburn
Fight acne and pimples
Reverse age
Add a natural glow
Moisturizes the skin
Helps reduce wrinkles
Brightens the skin complexion
How to Use Honey to Improve your Skin and Face?
Hydrates the Skin
Honey is found as a base ingredient for almost all beauty products because it deeply hydrates the skin. The enzymes present in Honey allow it to easily seep into the skin while conditioning and softening it from deep inside.
To use Honey as a Hydrating Mask
Use a tablespoon of Honey on clean, dry skin and let it sit for 15-20 minutes. Rinse with cold water. It will serve as a perfect hydrating mask.
Acts as a Pore Cleanser
Very little Honey can be use to clean pores and remove blackheads. Since Honey has antioxidant, antiseptic, and antibacterial properties, it helps to remove blackheads on the skin by removing dirt from the pores. Then hydrate and tighten—skin pores for a clear complexion.
To Use Honey as a Pore Cleanser
Try mixing one tablespoon of raw Honey with two tablespoons of jojoba oil or coconut oil. Apply to clean skin and massage gently in a circular motion, avoiding the eye area. Rinse with cold water.
Gentle Scrub
Artificial scrubs often cause your skin to become red and can irritate. Say goodbye to all the inopportuneness by simply switching to Honey as your scrub. Love aids exfoliate your face and skin by gently eliminating dead skin cells. It also leaves your face with a more luminous complexion.
To Use Honey as an Exfoliator
Mix two tablespoons of honey with one tablespoon of baking soda. Splash your skin with water and then mildly rub the mixture on your face or body in a circular motion. Rinse well.
Lightens Scars
Honey is a natural moisturizer and a natural antiseptic. It not only keeps your skin smooth and healthy but also ensures less scarring. It minimizes any inflammation and helps Heal skin faster. Also, the antioxidants present in honey help repair damaged skin.
For Using Honey to Lighten Scars
Mix a tablespoon of raw Honey with a tablespoon of coconut oil or olive oil. Apply to the pretentious area and massage with your fingertips in a circular motion for one to two minutes. Place a warm washcloth on your skin and let it sit until cool. Repeat daily.
Beneficial in Suntan
Honey is known to be the best home remedy for treating burns. Honey endorses healing by decreasing any inflammation and offers nutrition to damaged tissues—it what makes Honey a fantastic treatment for sunburn.
To Use Honey on Sunburn
Mix one share of raw Honey with two parts pure aloe vera gel. Gently apply to sunburned skin.
Fight Acne and Pimples
Honey has antibacterial and anti-inflammatory properties that help not only remove excess oil from the skin. The skin's surface but also removes blockages or clogged pores, which can cause constant breakout of acne and pimples on the skin if left untreated.
For the Use of Honey on Acne and Pimples
Apply raw Honey to acne-prone areas. Leave it for 15 to 20 minutes and rinse it off with tap water.
Reverse phase
The natural antioxidants are existing in honey aid control wrinkles and fine lines on the face. Smearing Honey to the front in the form of a homemade honey mask will help increase the skin elasticity, making it look young and shiny.
Add a Natural Glow
Many uses for Honey, using it to add a touch of natural shine to the top of the table. You either apply it directly to the face or mix it with milk or yogurt; The result will be incredibly glowing skin.
Moisturizes the Skin
Honey is a natural moisturizer, which means that it draws moisture from the skin out of the air. Therefore, applying Honey to the face, either directly or in the form of a natural honey facial pack, is the best way to keep your skin hydrated, fresh, and supple at all times.