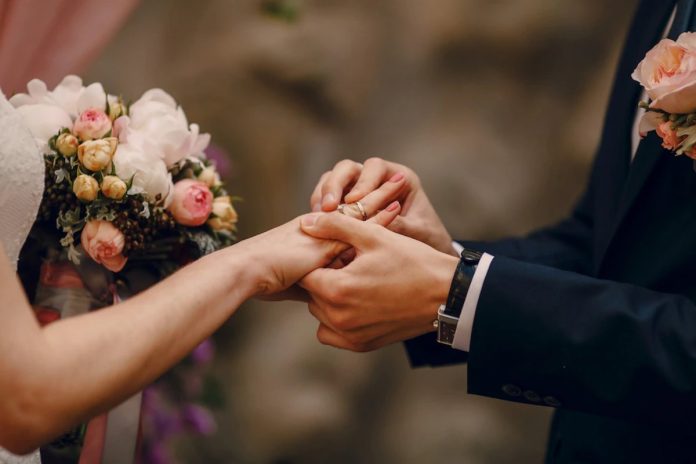 Wedding rings are one of the most precious pieces of jewelry you might ever own. And it's a relief that wedding ring insurance exists to ensure your wedding ring, which is a prized possession, keeps you financially safe in case of a mishap. So with that said, here's all that you need to know about wedding ring insurance.
Are Wedding Rings Insured?
Yes, wedding rings do get insured. Besides symbolizing the promise made by your partner, they're more often expensive pieces of jewelry. Therefore, they're at risk of being stolen. If not stolen, your wedding ring is also likely to be lost, damaged, or misplaced. A majority of wedding rings feature precious gems and stones. When one of the gems comes off and is lost, it is also a huge financial loss. When such a mishap occurs, you lose something you treasure and a huge financial loss, given how expensive wedding rings are. This is why wedding rings are commonly insured.
It can definitely be heartbreaking if you were to lose your wedding ring. However, when this piece of jewelry is insured, it softens the blow since you know you have some kind of protection.
Things to Consider in Wedding Ring Insurance
You carefully consider certain aspects when you're planning to get wedding ring insurance. Educating yourself will help you make the right decision that keeps you covered in the event of loss, damage, or theft. With that said, here are some factors worth keeping in mind when seeking wedding ring insurance.
There are two options when insuring a wedding ring, or any valuable piece of jewelry. First option for you would be to purchase an extension specifically for your wedding ring, if you have a renter's or homeowner's insurance.
However, you can consider an independent company that offers jewelry insurance in case you don't have homeowner's insurance.
When choosing an insurance company for your wedding ring, make sure that you understand what it exactly covers. It is best to go for a policy that keeps your piece of jewelry covered in case of loss, damage (including accidental drops), and theft.
Before signing up for coverage, it will help you to raise certain questions and have them answered, some of which are as follows-
How will the insurance provider replace your rings?
Will they try to find a replacement for you?
Will you have to approach a jeweler to obtain the replacement?
Can you opt for a cheque as compensation rather than a replacement?
Will the policy cover partial losses or repairs?
Before you actually protect the value of your wedding ring, you need to know its actual value. When you go for an assessment of value, you will have a clear understanding of different elements that account for your ring's value, such as the number of stones, their cut, clarity, carat weight, color, type of metal, the shape of the stone, and model number, among other aspects.
Now that you know the value of your piece of jewelry at that given point, it is important to know if your insurance provider also performs the assessment of value for reimbursement. Therefore, find out if they consider the original price of the ring or its current appraisal value.
Documentation Requirements
Make it a point to take note of all the paperwork required for the policy. This helps you ensure you have everything readily available when you need to file a claim. Some such documents are photos, receipts, and updated appraisals among others.
Wedding Ring Insurance Working Progress
If you wonder what the process of getting wedding ring insurance looks like, there are several steps involved. As you get your wedding ring, the first step would be for you to purchase a wedding ring policy after carefully considering different insurance service providers.
After your purchase, you will begin to pay your premiums on a monthly or annual basis. In the event that you lose your ring or it is stolen or damaged, you have to file a claim with your insurance company. Once you do so, the company will either replace or repair, compensate in case, or repair the ring.
Who Should Insure a Wedding Ring?
The first question you would want to ask before you insure your wedding ring is— will it be manageable for you to afford to replace your wedding ring if it happens to be stolen, lost, or damaged? If you think that's a loss you cannot take, you might want to get it insured. Further, if your wedding ring is a priceless heirloom, or you're insecure about wearing it in public, the ring losing its stones, or you're still financing it, wedding ring insurance is worth considering.
How Much Does Wedding Ring Insurance Cost?
A range of factors is taken into account when determining the cost of wedding ring insurance. Therefore, wedding ring insurance costs are customized. One such factor that is first considered is the value of your wedding ring, where you live, the risk and rate of theft in that area, and whether your policy has a deductible. For example, when your policy has no deductibles or lower deductibles, you might have to pay a higher premium.
While, on average, your wedding ring insurance might cost you anywhere between 1% and 3% of its value, other factors, such as individual risk characteristics, may add to the costs. Therefore, for every $100 of your ring's worth, you can expect to be charged between 1% to 3%, if it is a typical case.
The Bottom Line
When you invest in something as precious as a wedding ring, in both financial and emotional terms, it is best to ensure you take every step to guard yourself in case of a loss or accident. While this definitely means taking better care of your ring, wedding ring insurance is a wise decision worth making. So, you can take the help of any good insurance provider in case you want to secure your precious piece of jewelry.